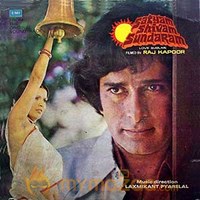 Satyam Shivam Sundaram Movie Reviews
Satyam Shivam Sundaram Review
by

MyMazaa.com
---
€˜Shiva€™ is back after sixteen years. The intensity of Nagarjuna and emotional appeal of Amla is replaced by the Woodstock Villa of one and a half expressions Mohit Ahlawat and Pout-Queen Nisha Kothari, the dare bare miss with ample cleavage-n-shapely-legs to display. Alas, this old wine in a new bottle is a rehash of hundreds of films of a one-man-army against the rotten System. Now, in an era when the Home Minister€™s fixation with closure of Dance Bars is more important than action against terrorist activities, potholed roads, lack of disaster management and flash floods, you don€™t have to be an Einstein to understand that the public has turned too cynical to really bother about lets-change-the-system syndrome unabashedly perpetrated by Ramu€™s Last Action Hero (It€™s another debate about the acting disability of Mohit Ahlawat).
In his angry young man ishtyle Shiva (Mohit Alawat) bashes up any and everyone that crosses the line-of-law. He has his share of domestic problems with brother Daksh (Ranvir Shourie) and Bhabhi Manasi (Suchitra Pillai) having issues with his police-ki-naukri. Distressed by the lackluster attitude of his seniors, Shiva gets embroiled in a major showdown with John (Shereveer Vakil), a prominent henchman of Bappu (Upyendre Limaye) as he misbehaves with Sandhya (Nisha Kothari). Well, Sandhya is a crime reporter and obviously she finds the macho Shiva irresistible.
Before moving further, I would like to point out that the most novel part about €˜Shiva€™ is the character of Bappu which is based on underworld Don turned MLA Arun Gawli. Gawli is called the Daddy of Dagdi Chawl and Bappu is an absolute copy with similar face, moustache, language and even his love-hate relationship with media (Remember what happened with The Asian Age Reporter who had gone to interview Arun Gawli and the consequent harassment he received at the hands of Gawli€™s henchmen). Now, coming back to the film, Bappu first tries to buy Shiva and then flies down special killer Kutney (Most bizarre comical killer I€™ve ever seen) to finish him off . Everything fails and Bappu is behind bars. Home Minister Shirke (Dilip Prabhawalkar, yes the same guy who played the lovable Bapu to apna Munnabhai) summons Shiva and teaches him a lessons on how system can mutilate him if he doesn€™t stop doing what he is doing.
The rest of the story is easy to imagine on its own. What is incredulous is that Shiva is such a super hero that he never gets hurt and one feels like pitying the good sense (If at all they have any) of the goonda element as to why they can€™t use their revolvers when they have it. Instead they prefer doing some kushti with the beefy hero. There€™s nothing new in the story and if this is how Ramu is going to remake €˜Sholay€™ then all I€™d say is please dude, take a break. Go for a long holiday with any of your arm candies (Jiah, Nisha or anyone else if you€™ve found by now) to a foreign land and let your mind unwind. In terms of direction, if you€™ve seen RGV€™s Gangsta flicks, then everything is predictable. The maniacal, unkempt henchmen with a silly sense of humour, skin show of skimpy babes to satiate the carnal desires, a love story that never really develops and an ending that€™s not really definite but just another vacuous pause.
Mohit Ahlawat is a non-actor. And he is showing no signs of improvement. His presence is dynamic. Agreed. He is earnest but he just doesn€™t know how to emote. Action sequences are good. But the romantic overtures towards his gal lack the flavour of that lovey dovey feeling. He will have to really do something out-of-the-box to make something of himself in Bollywood. Nisha Kothari, the sex kitten shows signs of improvement from her earlier films. She seems more confident than before but she doesn€™t behave or look like a crime reporter from any quarter. In the sensuous rain dance sequences she shows off her booty to good effect.
The lead pair disappoints in terms of acting capabilities but there are some very impressive performances. Upendra Limaye as Bappu is first class. You saw him last in a noteworthy performance in €˜Page 3€™ where he played the honest cop. Here he is the villain with a brief humane side to him (He takes good d care of his old-n-ailing mother). Upendra aids a touch of comic element to his sinister scheming underworld Don. One of his main henchman John, played by Shereveer Vakil shows good intensity and histrionic skills. Dilip Prabhawalkar, the man who plays the lovable Bapu in €˜Lage Raho Munnabhai€™ is the ruthless Home Minister Shirke who can go to any length to save his Chair. Zakir Hussain as the corrupt Inspector Sawant is effective as the opportunist cop who can change sides as per convenience. Ninand Kamat, the restaurant wala, better known as Bollywood in the film displays a neat comic timing with his Rajnikanth act in the first half. It would have been good if he was seen more in the film.
Music by Illaiyaraja is good, especially for its fabulous orchestration. But the problem is that except for €˜Police Police€™ none of the other songs are really needed. They only slacken the pace of the film. Amal Neerad€™s cinematography is competent. Amit Parmar and Nipun Gupta€™s editing carries that RGV stamp in terms of slickness. Farhad and Sajid€™s story is hackneyed and offers nothing new (Except for that Arun Gawli connection with Bappu). At the Box Office, €˜Shiva€™ will find the going tough as €˜Lage Raho Munnabhai€™ offers a far better option for altering the system in its non-violent Gandhigiri.
I am looking forward to Ramu€™s €˜Nishabd€™ as I can smell that it has something different than usual. Hope RGV understands that the public is tired of boring plots. It€™s time for something new. Something ingenuous.
Shiva: Old Wine, Forgotten Taste