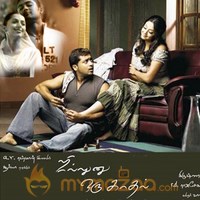 Jillunnu Oru Kadhal Movie Reviews
Jillunnu Oru Kadhal Review
by

MyMazaa.com
---
The irony strikes you like a sparkling light on a dark night. There they are, the two of them who are set to become man and wife in real life in a few days time, are shown to be forced into a marriage that they just are not interested in. They look like sparring opposing MPs in Parliament. And for those fleeting moments, the duo strikes a picture of incongruence. And then you also realize there will be plenty of eventful surprises and intriguing turns in the script and story.
Sure enough you are not mistaken as Sillunu Oru Kaadhal not only showcases love and romance in cool and icy glamour but also underlines the warm and sunny side of it. The script gives scope to understand love in its various shades and shines. It also presents the different meaning of life in different times of one۪s life. Debutant director Gautham abhors the clich̩s of cinematic like yesterday۪s souffl̩. With Suriya and Jyothika around why should he? After all, they bring to romance a special charm and seeing them in love, you fall in love with the idea of love. The unique understanding and the creative interpretation of their respective characters add depth to a movie that is an emotional gut-wrencher. Bhoomika as the functional chord in this triad of romance adds grace and charm. And then there is amazing music of A R Rehman that mounts the film on a fresh and fervent canvas. Both his songs and rerecording add dignity and delight to the movie.
The story is simply about a doting wife who comes to know that her equally doting husband had a past, which involved a compelling romance. Kundavi (Jyothika) and her friends in a quaint village near Tenkasi decide that love marriage is the way to a happy and contended life. While her friends settle for rustic nobodies, Kundavi doesn€™t find her Mr Right in that village. So she is pushed into a normal marriage that she doesn€™t want. On the other hand, there is Gautham (Suriya) who is also strangely not keen in the marriage. But the invisible string of fate through the knot of marriage ties them together.
The director smartly sidesteps the inter-lying passages that bring Gautham and Kundavi together like no adhesive could ever could. Cut to Mumbai, the two are the most romantic couple in the metropolis. Gautham by now is a leading mechanic in a car company while Kundavi too is a working woman. The two have an adorable child. And heaven could not be any nearer. It is absolute bliss.
As it happens, Kundavi chances upon a diary of Gautham in which are details of his past that is at once interesting and gripping. Gautham is a rough and tough engineering student while Aishwarya (Bhoomika) is his junior in the same college. She is the daughter of a local MP. After a few run-ins, the two fall in love with dramatic intensity. So much so they decide to get married. But a few moments after the marriage, her dad takes Aishwarya away while Gautham is left bruised black and blue.
Gautham cannot trace Aishwarya and circumstances force him to marry Kundavi. But now she knows of his past and also understands the force of his love for Aishwarya. So as a dutiful and doting wife, she tries an impossibility. But does it work? And what happens to Aishwarya? Who gets Gautham in the end? These are interesting imponderables that the director makes you to chew on till the denouement.
The film is a simple love triangle but interpolates the impossible geometry of true affection. The film€™s strength is in the details. No new director has got the finer aspects of both married life affection and college campus love so correctly and so very intelligently.
Suriya as Gautham is an absolute treat to watch. Right from the start he shows what a matured performer that he is these days. As the husband of Kundavi, his expressions carry the weight of responsibility that attach to all those who care for their family. The change of his bearing when his angry and when he his happy is simply marvelous. And as a student, who is brazen and bold, he is again at the top. The intensity of his love for the young Aishwarya is very believable and winsome. He captures the pangs of separation ---one as a lover and another as a husband, both intrinsically different --- with seeming felicity. Suriya is also getting handsome by the day. Teenage grils are bound to go weak on their knees seeing him in eye-catching outfits.
Jyothika is also a standout. Her chemistry with Suriya is now stuff of the contemporary film legend. But Jyothika improves upon this and comes with another gem. The way the two share those special moments (that are unique to a husband and wife who understand each other completely) are absolute cinematic gems. The way she breaks down caught between her own love and the sympathy for the past love of her husband is worth the price of the ticket. As the camera lingers on her face in close up, you feel that every muscle in the face is acting. A pity that Tamil cinema may not get to see her in the future. Jyothika comes across daintily and gorgeous in the New York Nagaril song.
Bhoomika looks divine like a freshly-picked rose. Her acting too matches that. First as the demure and coy college girl and then as a woman to whom life had not been all that kind. Bhoomika shows understanding portraying the difference in mental make up of the same but in two different stages of her life. The romance between Suriya and Bhoomika in the college is enjoying an exhilarating snow ride in peak summer.
Vadivelu€™s comedy is too miniscule but he evokes a few guffaws in that limited time. But Santhanam is hilarious with his one-liners and witty wise cracks. Sukanya has a limited role.
Rahman€™s music, as we said, is a major strength. The songs convey the various shades of emotions that the story tries to explore. If the eponymous Sillunu Oru Kaadhal is all jazz and brass, the New York Nagaril number is full of nuanced pathos. And all the other songs too ring sweet as seasoned honey. The background music too is very delicate, and the discerning can understand the tonal meanings and moods of master.
Rajasekhar€™s camera work is another big plus of the film. It is unobtrusive and seamlees while capturing the intimate moments of Gautham and Kundavi. It is if you are given a special peek into the lives of two individuals. The lighting is minimal and very real-life like. The songs are shot with a youthful vibrancy.
Anthony€™s editing, after his great show in Vettaiyaadu Vilaiyaadu, is another top-notcher. The movie gets the flow and feel thanks to Anthony€™s scissors. He lays it all trendily and artistically. The song cuts are also delightfully done.
Krishna has taken a difficult subject ---- after all, what novelty can you show in love triangles. But the young man not only makes it clear that with creativity you can explore unchartered avenues but it can also be an enjoyable ride.
There is the romance of youthful vigor and there is the romance of the sober and soft heart.
Sillunu Oru Kaadhal is actually Sillunu Rendu Kaadhal.