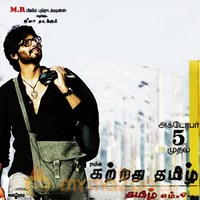 Tamil M.A Review
by

MyMazaa.com
---
Debutant Rama Subbu in his maiden directorial venture has taken a lofty theme and dwells on the declining status of Tamil. Jeeva playing a psychopath is the highlight of the movie. Sporting a different look, Jeeva renders lots of harsh and irresistable emotions to the character in the right proportions.
He is cast as Prabhakar, a Tamil graduate, who deplores the step motherly treatment meted out to Tamil in Tamil Nadu it self. The actor brings out love, affection and menacing looks all-in-one. Debutant Anjali reminds one of the heroines in Balu Mahendra's movies. Her casual expressions and prefect emotions adds strength to the movie.
Prabhakar (Jeeva) is a Tamil teacher in a private school. Unable to bear the ill-treatment meted out to Tamil. Frustrated at the society he even tries to commit suicide.
Imbalance in salary structure (call centre and IT employees earning several times more that of Tamil teachers) haunts Prabhakar. He slowly turns a rebel with, none to share his emotions; he gradually becomes violent and turns a psychopath.
A cute flashback reveals his past, his upbringing by a Tamil teacher (director Azhagam Perumal, and his childhood sweet heart Anandhi (Anjali) who later in his life becomes an obsession for him. He develops a soft corner for her. Unable to find answers for the ill treatment meted out to his mother tongue, Prabhakar goes on rampage killing people.
Amidst clichéd commercial films, Rama Subbu has daringly come out with a different film. Technically far superior than the contemporary films, the movie has catchy music by Yuvan with Ilayaraja rendering the song Paarvayin Yen Ingu Irukurai. Kadhir has caught the emotions of each character at his best.
A rare film which must not be missed!