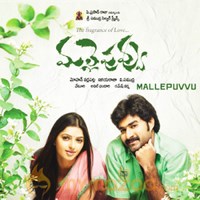 Mallepuvvu ( 2008 ) Movie Reviews
Mallepuvvu ( 2008 ) Review
by

MyMazaa.com
---
A few years ago, starring the yesteryear's handsome hero of Andhra, Shoban Babu and Lakshmi in the lead a film titled 'Mallepuvvu' (based on GuruDutt's 'Pyasa') was made. It bagged a huge success, and till date it enthralls the people who watch it. Retaining the title of such a classical film which wonderfully portrayed sensitive sequences, Bhumika and Murali Krishna playing the lead, in the direction of Samudra the latest 'Mallepuvvu' is made. Mohan Vadlapatla produced this film. The movie is released today on September 19th.
Story
Koti (Murali Krishna) and Samudra (Surya) are close friends. They work as construction workers under Mama (RK) and Kovai Sarala. Koti aspires to go to Dubai to earn money. Malleeshwari (Bhumika) joins the friends at work in a disguise with the name Malligadu. Learning that she is in disguise Koti falls in love with her. Why did she get into the disguise? What is her background? Did Koti and Malleeshwari gets united? Is to be watched on screen.
Performance of Artists
Bhoomika enacted the keyrole brilliantly as Malleeshwari. This is her first film after marrying Bharath Thakur. She bolsters as a special attraction for the film.
Murali Krishna is introduced as a hero with this film. He shows poise and ease in acting, however the dubbing doesn't sync well.
Director Samudra's performance was fine, as the friend of the hero.
Venu Madhav performance doesn't need words to be expressed.. He did his part with utmost ease as a comedian and tickles the funny bone.
And Telangana Sekunthala, Kovai Sarala, RK Suman Setty, Vadivel did perform with in the scope of their roles.
Cons
Ramesh Varma's story has nothing new to offer for the audience. Samudra's direction and screenplay is not captivating. The film bores the viewers from the start till the end. The backdrop selected for the film is a failure by itself. Further the photography of Anil Bandari seems to be a prominent void. The lighting part has been neglected to the core which gives the feeling of watching an old film. Music composed by Illayaraja relieves the audience to a certain extent. However, the lacking of proper story line miss-matches the feel rendered by the music. R-R is also a so-so.
Criticism
The movie title, created an impression of a sensitive love story to the film goers.However, the story made with a violent backdrop disappoints the audience and creates boredom. In a nutshell, this Jasmine 'Mallepuvvu' did not spread its fragrance in to the hearts of its viewers.
Released on: September 19, 2008