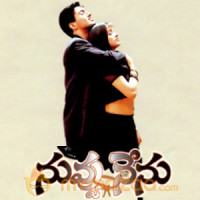 Nuvvu Nenu Review
by

MyMazaa.com
---
Quite contrary to popular belief, a remake film is the most difficult to handle. First the director has to contend with the nuances created for one language, one region and one hero. And the second is, what to and what not to change. More often than not, most directors slip in the second part. And if they manage to get it right, there is no guarantee a success in one language will be success in another.Perhaps, Nenus director E Satti Babu will bear this out.
Remaking the Tamil hit Kadhal Kondhein, the director seems to have got the essential remix formula right. But somehow Nenu does not make for compelling viewing. Perhaps that may be due to the lack of canny chemistry between the lead actors and the musical score --- the ingredients behind Kadhal Kondheins success.
The story revolves around the psychotic Vinod (Naresh) and his complicated past that casts a depressing shadow on his present. A man of slovenly particularities, he falls in love with his classmate Divya (Veda) in the engineering college. Vinod is attracted to her because Divya is the only one sympathetic towards him despite his coarse and uncouth appearance and behaviour.But, as it happens, Divya is in love with Adi (Abhishek). When Vinod comes to know of this, the Hyde-side of his personality comes to fore. He plays every trick in the book to get Divya. The rivetting climax is all about the efforts of the ruthless Vinod to get at Divya.
The film has a dark, brooding shade to it and the childhood days of Vinod, which has a bearing on his neurotic behaviour, are well captured. Naresh is more than adequate in a role that is a challenge to even seasoned artistes. He has to kindle detest as well as sympathy. It is a tightrope walk, and he passes muster. The only way for Naresh after this film is up.The lissome Veda is also good, but the chemistry between the lead pair somehow lacks the essential spark. Abhishek is adequate and so are others.
But Vidyasagars music is a major letdown; he fails to create the right aural tones for such a sensitive script. It is too loud for ones comfort. C Ramprasads camera work is pleasing on the eyes and other technical work also fits the bill.
Satti Babu has toiled manfully, but his efforts look to have been spoiled by the support cast