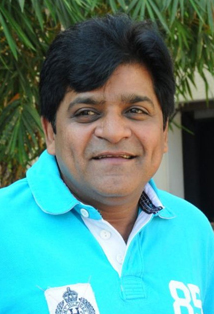 Ali (born October 10, 1968) is a South Indian actor who has acted in more than 800 films in Telugu, Tamil and Bollywood film industries. He is a regular actor in Puri Jagannadh and Pawan Kalyan movies
Ali was born in a poor family in Rajahmundry, Andhra Pradesh, India. His father was a tailor and his mother was a housewife. He has one brother named Khayyum, who is also an actor.He had got married on 23rd January 2004 at Mandapeta. He has two daughters an a son (Mohd. Fathima Rameezun, Mohd Abdul Subhan & Zuveria Meethi)
Ali had developed a passion for acting since childhood. He used to perform mimicry shows during festivals and marriage events. He came into the movie industry with the help of Jitu Mohan Mitra, Rajahmundry's well known musical company. When he heard that director Bharathi Raja was looking for new child artists to act in his movie "Seethakoka Chiluka", Ali went to Chennai and attended the screening at Bharathi Raja's office. Bharathi Raja was pleased with Ali's performance and gave him his first film role.
As a child artist, Ali had acted in a variety of movies, but as he grew older, he was no longer suitable for child roles. He held on to the film industry in Chennai and waited for a breakthrough role. Ali started his second career in Tollywood as a comedian.
It was director S. V. Krishna Reddy who gave him the much-needed break with comic roles in his movies. Even though no suitable roles were present, S. V. Krishna Reddy used to create new roles for Ali. Reddy suggested Ali should have his own style of dialogue delivery. Ali developed his own style, which was popularly known as Chaata. Ali has also acted in Kannada movie Super (2010 Kannada film) which is doing well.
He is the brand ambassidor for Manmohan Jaadoo Malaam, an anti-itching medicine.
Awards
Filmfare Best Comedian Award (Telugu) - Amma Nanna O Tamila Ammayi (2003).
Filmfare Best Comedian Award (Telugu) - Super (2005).