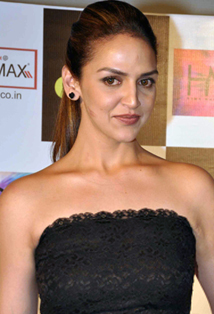 Esha Deol (born 2 November 1981) is an Indian film actress who appears in Bollywood films. She made her acting debut in Koi Mere Dil Se Poochhe (2002). The film flopped at the box office but Deol was praised by film critics and her performance in the movie earned her numerous awards and nominations including the Filmfare Award for Best Female Debut.
Deol's films that featured her in lead roles were failures at the box office, which were unable to establish her as a successful heroine. However, Deol earned critical acclaim for her performances and has mainly found success in multi-starrer movies. Deol's breakthrough role was in the critically acclaimed Tamil film Aayutha Ezhuthu (2004) and its Hindi remake Yuva (2004).
Deol's first commercial success was the multi-starrer action film Dhoom (2004) featuring her in a supporting role. It was followed by numerous multi-starrer movies including Dus (2005) and No Entry (2005) that were commercial successes at the box office and earned Deol critical acclaim. The majority of Deol's later movies continued to be failures but she earned critical acclaim for her performances in films including Ankahee (2006), Darling (2007) until she took a hiatus from acting. Deol made her comeback to acting with a lead role in Tell Me O Kkhuda (2011).
Deol attended Mithibai College in Mumbai where she planned to be become a fashion designer. Deol trained in the Odissi dancing style under Mumbai guru Rabindra Atibuddhi. She was trained by and performs classical Bharatanatyam dance with her mother.
Deol's portrayal of a notorious and vengeful ghost in Ram Gopal Verma's Darling (2007) was reviewed positively. Taran Adarsh from indiaFM noted that, "Esha Deol is excellent in a role that's nothing short of a challenge. It would've boomeranged had it been entrusted to any inferior actor, but Esha is in terrific form here. This should be the turning point in her career."
She is set to star in her mother's next directorial venture with Rekha and Abhishek Bachchan and also a film in which she is cast with her mother which is another attempt by Hema Malini in relauching her daughter career after Tell Me Oh Khuda.
2011–present: Comeback
Deol's next film was Tell Me O Kkhuda. She portrayed the lead role in the film opposite Rishi Kapoor.She will also appear in Shivam Nair's Ghost Ghost Na Raha with Rahul Bose and Ayaz Khan
Esha Deol was born in Mumbai, Maharashtra, India on 2 November 1981. She was given the full name of Esha Dharmendra Deol. The name 'Esha' comes from the Upanishads and is derived from the Sanskrit language meaning "the divine beloved". She is the elder daughter of Bollywood actors Dharmendra and Hema Malini. She has a younger sister named Ahana. She is the half-sister of actors Sunny Deol and Bobby Deol and first cousin of actor Abhay Deol. She is part Punjabi and part Tamil and speaks Tamil with her mother and sister.
During her school days, she was passionate about football and played as a midfielder.[citation needed] She was the captain of her school football team, represented her college in handball at the state level and was also selected for the Indian national woman's football team.
Esha Deol got engaged to her boyfriend Bharat Takhtani, a businessman on 12 February 2012 and married on 29 June 2012