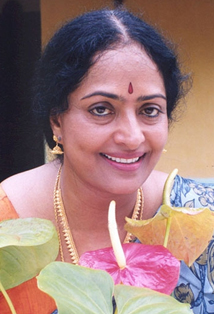 Alias
Vijaya
Age
69 years
Height
5'6"
Occupation
Actress
Language Worked in
Hindi, Telugu, Tamil, Kannada, Malayalam
Spouse

Ramakrishna

Birth Place
Kerala, India
Eye Color
Black
Hair Color
Black
Religion
Hinduism
Marital Status
Married
Parents

Ramprasad

,

Mangalam

Favourite Actors

Sivaji Ganesan

,

MGR

,

Jai Shankar

,

Muthuraman

Favourite Actresses

Padmini

,

Vyjayanthimala

,

Saroja Devi

,

Savithri

City
Chennai
K. R. Vijaya is an Indian actress who has starred in Tamil, Malayalam and Telugu films. She started her career in the 1960s. She has been acting for more than four decades now in South Indian cinema. K. R. Vijaya has worked with almost all the stalwarts of South Indian cinema and has played a variety of roles
Vijaya was born on 30 November 1948. She spent most of her childhood in the holy city of Palani. Vijaya's father was from Andhra Pradesh and he wanted her to become an actress since he was himself acting in M. K. Radha's drama troupe at the time
Vijaya played the title character, a heroine, in her 1963 debut film Karpagam, directed by K. S. Gopalakrishnan. Gopalakrishnan also directed her 100th film Nadhiyil Muthu.
Vijaya has starred in almost 400 films in all the South Indian languages, including 100 films each in Tamil, Malayalam and Telugu, half-a-dozen in Kannada, and one in Hindi titled Oonche Log (1965). Her co-stars in the Hindi movie were Raaj Kumar and Feroz Khan. She received many offers in Hindi, but did not accept them as she was busy in the South.
Some of her critically acclaimed films include Karpagam, Selvam, Anarkali, Saraswathi Sabadham, Nenchirukkum Varai, Namma Veetu Theivam (the movie in which she first started depicting deities), Dheergasumangali (she first started playing a mother in this film), Idhayakamalam, Thangappathakkam, and Thirusoolam.
K. R. Vijaya has starred in many films. Her first film was Karpagam in 1963, where she portrayed the title role, Karpagam. The movie went well and she was also praised for her role. Apart from films, she has also starred in two teleserials, Raja Rajeswari and Kudumbam, shown both in India and Sri Lanka.