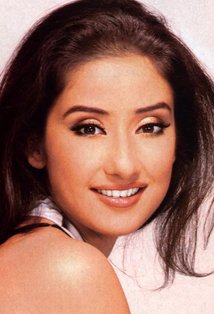 | | |
| --- | --- |
| Alias | Manisha Koirala Dahal |
| Age | 47 years |
| Height | 5'5" |
| Occupation | Actress |
| Language Worked in | Hindi, Telugu, Tamil, Kannada, Malayalam, Bengali |
| Spouse | Samrat Daha |
| Birth Place | Kathmandu, Nepal |
| Eye Color | Black |
| Hair Color | Black |
| Religion | Hinduism |
| Education | Vasant Kanya Mahavidhyalaya (VKM), Varanasi until Class X ,. After passing |
| Marital Status | Married |
| Parents | B.P. Koirala |
| Brothers | Siddarth Koirala |
| City | Mumbai |
Manisha Koirala (born 16 August 1970) is a Nepali-Indian actress who works in Indian films, as well as a UNFPA Goodwill Ambassador and social activist. Koirala has primarily worked in Hindi cinema, though she has appeared in several Nepali, Tamil, Telugu and Malayalam films as well. She is also an accomplished Bharatnatyam and Manipuri dancer. Born to politician Prakash Koirala and Sushma Koirala in the politically prominent Koirala family of Nepal, she made her acting debut in the Nepali film Pheri Bhetaula (1989). A year later, Koirala made her Bollywood debut with the top-grossing drama Saudagar (1991). She went on to establish herself as one of the leading actresses in the 90s with such mainstream films as 1942: A Love Story (1994), Agni Sakshi (1996) and Gupt (1997).
Recognised for her acting prowess, Koirala was noted for her performances in films such as Bombay, Akele Hum Akele Tum (both 1995), Khamoshi: The Musical (1996), Dil Se.. (1998), and Company (2002). She has won the Filmfare Critics' Award thrice and has received four nominations for the Filmfare Award for Best Actress so far. Although box-office collections of her films have varied considerably, critics have noted that her niche as an actor remains unharmed irrespective of her commercial potent. Off-screen she is frequented in the media as a "controversy's child" with her bohemian stance and candid comments often described as "outspoken" and "bold"
Manisha Koirala was born in Kathmandu, Nepal, into the politically prominent Koirala family to Prakash Koirala and Sushma Koirala. Her grandfather Bishweshwar Prasad Koirala was the Prime Minister of Nepal during the late 1950s-early 1960s, as well as two of her late great-uncles, Girija Prasad Koirala and Matrika Prasad Koirala. Her father Prakash Koirala has also been a prominent politician and a Cabinet Minister. She studied at Vasant Kanya Mahavidhyalaya (VKM), Varanasi until Class X. She stayed with her grandmother in Varanasi during her studies. After passing tenth standard she shifted to the Army Public School, Dhaula Kuan, New Delhi (APS). Her ambition was to be a doctor, but a modelling stint opened a career path into Bollywood.
Her brother Siddharth Koirala is also an actor, and collaborated with her once in the film Anwar.
In 2004, she returned from New York after receiving a diploma in filmmaking. She became a member of an independent documentary filmmaker's society
On June 19, 2010, Koirala married Samrat Dahal in a traditional ceremony held in Kathmandu. The couple spent their honeymoon in Finland. They met through the online social networking website, Facebook. The couple divorced in 2012. She was reportedly engaged in 2001 to Crispin Conroy, the former Australian ambassador to Nepal, but they broke up later. There were also reports of her dating American speaker and author, Christopher Dorris, but that relationship also ended.
On November 29, 2012, media news reported that Koirala has been diagnosed with cancer. was admitted to Jaslok Hospital in Mumbai. As per the latest new report she has been diagnosed with Ovarian Cancer Manisha Koirala has flown to the US for her treatment, however the ailment has not been disclosed yet. On 10 December, she underwent a surgery. A day after, it was confirmed that her surgery was successful.
Social work
In September 1999, Koirala was appointed as a UNFPA Goodwill Ambassador. She is actively involved in social work, specifically working with organizations to promote women's rights, prevention of violence against women, and also to prevent the human trafficking of Nepali girls for prostitution