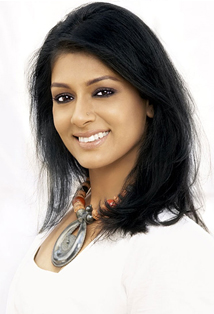 Alias
Nandita
Age
48 years
Height
5'6"
Occupation
Actress, Director
Language Worked in
Hindi, Telugu, Tamil, Kannada, Malayalam, Bengali
Spouse

Subodh Maskara

Birth Place
New Delhi, India
Eye Color
Black
Hair Color
Black
Education
Sardar Patel Vidyalaya, Lodhi Estate in New Delhi., bachelor's degree in G
Marital Status
Married
Parents

Jatin Das

,

Varsha Das

City
New Delhi
Nandita Das (born 7 November 1969) is an award-winning Indian film actress and director. As an actress, she is known for her performances in Fire (1996), Earth (1998), Bawandar (2000), Kannathil Muthamittal (2002), Azhagi and Aamaar Bhuvan (2002). As a director, she is known for her directorial debut Firaaq (2008), which has won a number of national and international awards. She has been awarded the Chevalier of the Ordre des Arts et des Lettres by the Government of France for her work. Nandita Das was the first Indian to be inducted into their International Women's Forum's hall of fame.
Das was born in New Delhi to noted Indian painter, Jatin Das and a Gujarati Jain mother named Varsha who is a writer.
She went to Sardar Patel Vidyalaya, Lodhi Estate in New Delhi. She received her bachelor's degree in Geography from Miranda House (University of Delhi) and Master of Social Work from the Delhi School of Social Work
Acting
Nandita Das started her acting career with the theatre group Jana Natya Manch. She taught at the Rishi Valley School.
She is best known for her performances in Deepa Mehta films Fire, Earth alongside Aamir Khan, Bawander (directed by Jagmohan Mundhra) and Amaar Bhuvan (directed by Mrinal Sen). Das has acted in films in ten different languages: English, Hindi, Bengali, Malayalam, Tamil, Telugu, Urdu, Marathi, Oriya and Kannada. The movie star Suganya provided Das' speaking voice in the Tamil classic Kannathil Muthamittal.
Das narrated the children's audiobook series Under the Banyan, and Mahatma Gandhi's autobiography by Charkha Audiobooks The Story of My Experiments with Truth. She has also lent her voice to the children's television series, Wonder Pets as the Bengal Tiger.
Directing
In 2008, she completed filming her directorial debut, Firaaq. Firaaq is a work of fiction, based on a thousand true stories and is set a month after the Gujarat carnage in 2002. It is an ensemble film that interweaves multiple stories over a 24 hour period, as the characters from different strata of society, grapple with the lingering effects of violence. The film traces the emotional journeys of ordinary people — some who were victims, some perpetrators and some who chose to watch silently. The film's stellar cast includes Naseeruddin Shah, Raghubir Yadav, Paresh Rawal, Deepti Naval, Sanjay Suri, Tisca Chopra, Shahana Goswami and Nowaz.
The film won top honours at the Asian Festival of First Films 2008 in Singapore, where it won the awards for "Best Film", "Screenplay / Script", and "Foreign Correspondents Assn. Purple Orchid Award for Best Film". The film has also won awards at other international film festivals, including the Special Prize award at the Thessaloniki International Film Festival in Greece, the Special Jury Award at the International Film Festival of Kerala, and the Best Editor award for the film's editor Sreekar Prasad at the Dubai International Film Festival. It was released in India on 20 March 2009. The film also won an award at the Kara Film Festival. Das said that the film "gave a voice to so much that remains silent".
In 2002, Das married Saumya Sen. The couple began Leapfrog, an advertising organization geared towards making socially conscious ad films. The couple divorced in 2009.After dating Subodh Maskara, an industrialist based out of Mumbai for a couple of months, she married him on January 2, 2010 and moved to Mumbai. Das and Maskara had a baby boy named Vihaan on 11 August 2010
Awards and honours
2000 45th Filmfare Awards
Won - Best Debut - 1947 Earth
2001 Santa Monica Film Festival
Won - Best Actress - Bawander
2002 Cairo International Film Festival
Won - Best Actress - Amaar Bhuvan
2002 Tamil Nadu State Film Awards
Won - Special Prize - Kannathil Muthamittal
2005 Cannes Film Festival
May 2005 - Das served as a Member of the Jury at the 2005 Cannes Film Festival
2006 Nandi Awards
Won - Best Actress - Kamli
2008 Asian Festival of First Films
Won - Best Film - Firaaq
Won - Best Screenplay - Firaaq
Won - Foreign Correspondents Association Purple Orchid Award for Best Film - Firaaq
2008 Government of France
Won - Chevalier of the Ordre des Arts et des Lettres
2009 International Film Festival of Kerala
Won - Special Jury Award - Firaaq
2009 Thessaloniki International Film Festival
Won - Special Prize (Everyday Life: Transcendence or Reconciliation Award) - Firaaq
Nominated — Golden Alexander - Firaaq
2010 Filmfare Awards
Won - Special Award - Firaaq