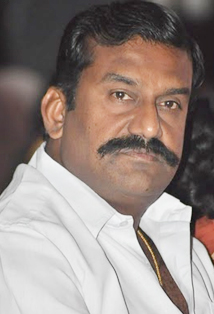 Alias
Kumaresan Duraisamy
Age
54 years
Height
6'2"
Weight
81.00 Kgs
Occupation
Actor
Language Worked in
Telugu, Tamil, Kannada, Malayalam
Spouse

Jayasudha Napoleon

Children

Dhanoosh Napoleon

,

Gunal Napoleon

Birth Place
Trichy, Tamil Nadu, India
Eye Color
Black
Hair Color
Black
Religion
Hinduism
Education
He graduated from St. Joseph's College, Trichy
Marital Status
Married
Parents

Duraisamy Reddiar

,

Saraswati Ammal

Favourite Cuisine
South Indian
Favourite Color
White
City
Chennai
Kumaresan Duraisamy (born 2 December 1963), better known by his stage name Napoleon, is a Tamil film actor, politician and the founder and chairman of the Jeevan Technologies. As of 27 May 2009, He is the Minister of State for Social Justice and Empowerment in Indian Prime Minister Manmohan Singh's Cabinet. During his early ages, he acted in nearly 100 movies in Tamil, Telugu and Malayalam language and Kannada films.
Kumaresan Duraisamy, better known as Napoleon, was born on 2 December 1963—the fifth of six children. His family was occupied in agriculture. He graduated from St. Joseph's College, Trichy. His father is Duraisamy Reddiar and mother Saraswati Ammal.
After college, he moved to Trichy (March 2012) and became enthused by the ideologies of the Dravida Munnetra Kazhagam (DMK) party. He joined the party in which his uncle K. N. Nehru was already a member and at that time the Public Welfare Minister of the state government.
contested the State Assembly elections of 2001, winning the Villivakkam constituency contest and thereby becoming a Member of the Legislative Assembly of Tamil Nadu. He lost his membership in the 2006 elections, when he contested from the Mylapore constituency and was defeated by actor S. Ve. Shekhar. Subsequently, Napoleon nurtured the Perambalur constituency in the hope of becoming a Member of Parliament for the DMK, and succeeded in the 2009 Lok Sabha election. He was then appointed Minister of State for Social Justice and Empowerment in Union government.
n 2000 Napoleon founded Jeevan Technologies in Chennai, and then expanded into the USA and New Zealand. In 2008, the Jeevan IT Academy was started with the mission of training graduates to enter the corporate world with a thorough knowledge of industry standards.