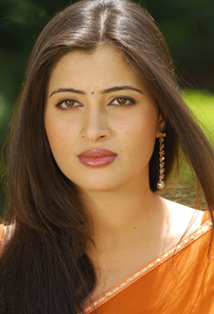 Alias
Navaneet Kaur
Age
32 years
Height
5'8"
Occupation
Actress
Language Worked in
Telugu, Tamil, Kannada, Malayalam
Spouse

Ravi Rana

Birth Place
Mumbai, Maharashtra, India
Eye Color
Black
Hair Color
Black
Education
After finishing 12th class, she discontinued her education
Marital Status
Married
Parents

Harbajan Singh

,

Rajendar Kaur

City
Mumbai
Navaneet Kaur (also spelled Navneeth Kaur or Navaneeth Kaur; born January 3, 1986) is an Indian film actress who mainly acts in Telugu films.
Kaur was born and brought up in Mumbai, Maharashtra, India. Her parents are of Punjabi origin; her father was an army official. After finishing 12th class, she discontinued her education and began working as a model, going on to appear in six music videos later. Kaur made her feature film debut in Darshan, a Kannada film. Then followed her debut in Telugu with Seenu, Vasanthi and Lakshmi (2004). Chetna (2005), Jagapathi (2005), Good Boy (2005), and Bhuma (2008) are some of her subsequent releases. Additional work include Kalachakram, Terror, Flash News and Jabilamma in Telugu. She was a contestant in the Gemini TV reality show named Humma Humma. She starred in the Malayalam film Love In Singapore, directed by Rafi Mecartin. In 2010, she acted in the Punjabi film Lad Geya Pecha opposite Gurpreet Ghuggi.
After a short hiatus from her film career, on 3 February 2011, she married Ravi Rana, an independent MLA from Badnera district of Amravati. It has been reported that they got married along with 3613 couples in a mass ceremony.