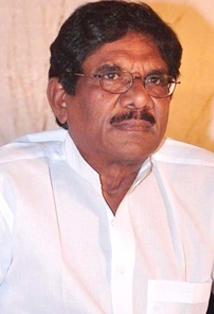 P. Bharathiraja is a South Indian filmmaker who works mainly in the Tamil film industry. Bharathiraja displayed a story-teller's potential from an early age. He is known for his realistic and sensitive portrayal of village-life in his movies.
He is well known for his work in 16 Vayathinile, Muthal Mariyathai, Vedham Pudhithu, Karuththamma, Kizhakku Cheemayile and Anthimanthaarai. He has won six National Film Awards, two Tamil Nadu State Film Awards and is also a recipient of other awards such as Filmfare Awards South, Cinema Express Awards and Nandi Awards.
Bharathiraja started his film career as an assistant to director P. Pullaiya and Kannada film-maker Puttanna Kanagal. He also worked with Krishnan Nair, Avinasi Mani and A. Jaganathan, he learned the grammar of film-making and got his first directorial opportunity in 1977. His first film 16 Vayathinile for which he wrote the script broke the then existing convention to create a new genre of village cinema.
The movie is now regarded as a game-changer and a mile-stone in the modern history of Tamil Cinema. About the movie, said Bharathirajaa in his own words, "This movie was meant to be black and white art film produced with the help of National Film Development Corporation", but turned out to be a commercially successful color film and a starting point for several important careers.
Vedham Pudhithu dealt with the caste issue in a stronger manner. The film's narrative was seamless and starred Sathyaraj as Balu Thevar. It contains some of Bharathiraja's trademark touches as well as several ground-breaking scenes. However, it does follow the anti-Brahmin trend common in Tamil films – in this respect it departed from his earlier success, Alaigal Oiyvadhillai, where the caste and religion factor was given a more balanced treatment. Bharathiraja has successfully managed to modernize his film making techniques for the 1990s. The commercial success of Kizhakku Cheemaiyile and the awards Karuththamma garnered stand as testimony for his ability to thrill the younger generation as well. His mother Karuththamma received the National Award on his behalf from the President in 1994 for the film named after her. Bharathiraja was on the same stage in 1996 to receive another National Award for Anthimanthaarai.
He has plans of making short films with varying themes to attract the international audience and has currently completed his latest venture Kadal Pookal and picked up a national award for the best screenplay writer for the same film. The well-known Tamil film director Bhagyaraj was one of his assistant directors. He has also directed movies in Telugu, Kannada and Hindi.