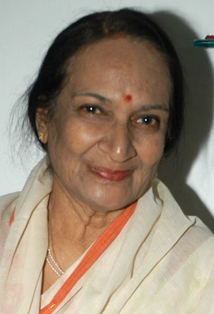 R. Balasaraswathi, Raavu Balasaraswathi or Rao Balasaraswathi Devi (Tamil: ராவ் பாலசரஸ்வதி தேவி) (b: August 29, 1929) is famous singer and actress of 1930 to 1960s in Telugu and Tamil languages.
She has the distinction of first Light music singer on All India Radio and first playback singer of Telugu cinema industry.
She was born in 1929 at Venkatagiri. She learned music from Allathuru Subbayya and lent her voice for the first solo gramophone on HMV recording company at the age of 6 years
he acted as child actor Ganga and also sang in the films Sati Anasuya and Bhakta Dhruva in 1936 directed by C. Pullaiah.Observing her talent, director K. Subramaniam invited her to act in Tamil films. In the following years, she acted in Tamil films like Bhaktha Kuchela (1936), Balayogini (1937), Thiruneelakantar (1939). She played the role of Tukaram's daughter in Tukaram (1938). Tukaram role was portrayed by Musiri Subramania Iyer in Tamil version and C. S. R. Anjaneyulu in the Telugu version. In 1940, she acted with S. Rajeswara Rao in Illalu, directed by Gudavalli Ramabrahmam.
In Bhagya Lakshmi (1943) of Sri Renuka Films of Chittor V. Nagaiah, she made history when she sang for Kamala Kotnis on screen. It was the first instance of playback singing in Telugu cinema. The song Thinne Meedha Sinnoda was composed by Bhimavarapu Narasimha Rao.
She gradually reduced her screen appearances. After sometime, she resumed her career as a playback singer to sing many memorable songs in Telugu and Tamil languages. Although, she had rendered songs in many genre and moods such as religious, romantic and dance, her strong point is sorrow and lullabies. Lullabies and cradle songs are caressing voice have the magic ingredients of motherhood, the selfless love that only a mother is capable of, the warmth of her bosom, the protection of her proximity and the pride of her possessiveness. The immortal song of neela vaNNa kaNNa vaada, nee oru muttham thaadaa in Mangaiyar Thilakam in Tamil and Dharaniki Giri Bharama, Giriki Tharuvu Bharama, Taruvuku Kaaya Bharama, Kanipenche Talliki Pilla Bharama in Manchi Manasuku Manchi Rojulu in Telugu languages is one of her best tunes.
She lived for some years in Mysore, and then shifted to Hyderabad. After her husband's demise, she is now living with her son in her grand son's house in Secunderabad.