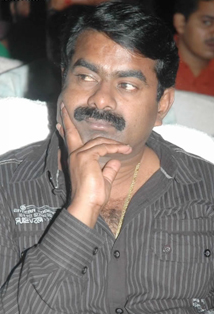 | | |
| --- | --- |
| Alias | Seeman |
| Height | 5'8" |
| Weight | 60.00 Kgs |
| Occupation | Actor, Director |
| Language Worked in | Tamil |
| Birth Place | Sivagangai district, Tamilnadu, India |
| Eye Color | Black |
| Hair Color | Black |
| Favourite Cuisine | South Indian |
| Favourite Color | White |
| City | Chennai |
Seeman was born in Sivagangai district in South Tamil Nadu. He took up film direction as a career after being inspired by the films of his mentor, Bharathi Raja and also the work of Manivannan. Seeman started his career by directing Panchalankurichi, a village action film starring Prabhu and Madhubala. He collaborated with actor Prabhu again in Iniyavalae, a romantic film also featuring Suvalakshmi, Gouthami and Keerthi Reddy. His third film Veeranadai with Sathyaraj and Kushboo after that he took a long break from films.
In 2006, he came back with a successful film Thambi with actor Madhavan. The film carried the message that violence does not pay, and is not the answer to the problems of today. Seeman turned actor with the film Pori where he played the role of a Malaysian Business man. The same year he directed the love story Vaazhthugal again with Madhavan and Bhavana, with every single word used in the movie being written in pure Tamil. However the film failed at the box office and since Seeman has only acted in films including critically acclaimed roles in Pallikoodam and Evano Oruvan.
He is a Tamil activist who founded the Naam Tamilar Katchi party on May 18, 2010 in Madurai. Seeman campaigned against the DMK-INdian National Congress coalition in the 2011 assembly election in Tamil Nadu. Seeman's vigorous campaign, oratory skills and the role of his campaigning team contributed to the massive losses suffered by the Congress-DMK coalition in the state elections.In the last Parliamentary elections Seeman campaigned against Congress party and was successful in defeating Congress bigwigs like Mani Shankar Aiyar, E. V. K. S. Elangovan and Thangabalu.
The Congress party contested in 63 constituencies and Seeman campaigned in 59 of the 63 places. He was however unable to campaign in the remaining places due to time constraints as he was in jail and released some days before the elections and it is his campaigning that lead to Congress' loss.
Wherever he went he was successful in drawing large audience that ranged from 5000 to 25000[citation needed]. These are good turn-outs for road side meetings. On the other hand, other political parties attracts only a few 100 people. Seeman is passionate about the Tamil language, the culture and the people, and he is also a skillful orator. As such, when he describes the suffering of the Eelam Tamils, people are moved and some even shed tears. He attacks Congress party because he holds them responsible for the genocide against the Eelam Tamils and this evokes ange
In 2011, tamil actress Vijayalakshmi who has acted in Seeman's direction and had a close relationship with him, lodged a complaint with Chennai Police against Seeman for making false promises that he would marry her. When reporters contacted Seeman, his advocate Chandrasekar said that these are false allegations made to tarnish Seeman's image. The advocate also said that Seeman would marry a Eelam Tamil girl who was affected during the genocide of Eelam Tamils.
Even though Seeman vehemently argues for Tamil's rights and insists on employing Tamil language and Tamil speaking people everywhere. He chose Pooja a Sinhalese actress for his movie Thambi who enjoyed a good market at that time.