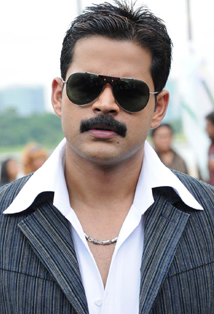 | | |
| --- | --- |
| Alias | Shamshuddin Ibrahim |
| Age | 41 years |
| Height | 5'8" |
| Weight | 72.00 Kgs |
| Occupation | Actor |
| Language Worked in | Telugu, Tamil, Kannada |
| Spouse | Kashish |
| Children | Samaira |
| Birth Place | Madurai, Tamil Nadu, India |
| Eye Color | Black |
| Hair Color | Black |
| Education | After completing his B. Com, he did modelling through which he hoped to bec |
| Marital Status | Married |
| Favourite Cuisine | North East India South Indian |
| Favourite Color | White |
| City | Chennai |
Shamshuddin Ibrahim, known professionally as Shaam is a Tamil film actor and model. Starting his career as a professional model, he soon made his acting debut in the film Khushi (2000), appearing in a cameo role. He further appeared in lead roles in critically and commercially successful films such as 12B, Anbe Anbe, Iyarkai, Ullam Ketkumae and the Telugu film Kick. In 2006, he made his debut in Kannada film through Tananam Tananam with Ramya and Rakshita directed by Kavitha Lankesh.
Shaam began his career as a model in Bangalore, modelling for various ads. Keen on pursuing an acting career, he was vainly searching for acting offers for four years. He then, following the recommendation of his model coordinator Biju Jayadevan, got to meet cinematographer Jeeva's, who was planning to make his directorial debut and was on the lookout for a new face for the film's lead role.
Shaam was given the role for the film 12B. Shaam recollects that during his first meeting with Jeeva, he handed over his portfolio and introduced himself in English, when Jeeva heard him out, and then said, "Repeat what you just said, in Tamil" and Shaam did, and was subsequently signed on the next day after a meeting with producer Vikram Singh.[
Shaam's first 2005 release, Ullam Ketkumae, again directed by Jeeva, finally was a commercial success again.[10] In 2006, he acted in a Kannada film directed by Kavitha Lankesh, with Ramya and Rakshita, Tananam Tananam, an average grosser that released to mixed reviews. It fetched his co-star, Ramya, her first Filmfare Award for Best Actress. She had described her role in the film as "little complex" and "challenging." Following several more unsuccessful films, he got a major break in the 2009 Telugu action film Kick. He reprised the role in the Tamil remake, titled Thillalangadi. Shaam tried his luck in Hindi with director Faisal Saif in the Hindi-Tamil bilingual titled Mujhe Maaf Karo. But due to ego clash between the actor and director the film has been put on hold.