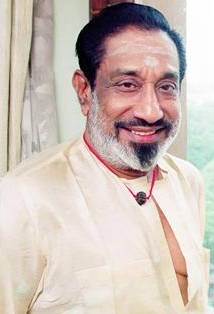 Alias
Villuppuram Chinnaiahpillai Ganesan, Nadigar Thilagam
Age
89 years
Height
5'8"
Weight
62.00 Kgs
Occupation
Actor
Language Worked in
Hindi, Telugu, Tamil, Kannada, Malayalam
Spouse

Kamala Ganesan

Children

Ramkumar Ganesan

, ,

Prabhu

,

Shanthi

,

Thenmozhi

Birth Place
Villuppuram, Tamil Nadu, India
Eye Color
Black
Hair Color
Black
Marital Status
Married
Favourite Cuisine
South Indian
Favourite Color
White
City
Chennai
Ganesan's inspiration for acting was inborn; when he got a chance to act on stage for a touring drama company he took it without his father's consent at the age of seven.[8] At the age of 10, he moved to Tiruchirappalli and joined a drama troupe in Sangiliyandapuram and began to perform in stage plays.
From the drama troupe trainers he was very lucky enough to learn acting and dancing skills. He was trained in Bharatanatyam, Kathak and Manipuri.
Ganesan was an intellectual boy who could remember lengthy lines easily and could present them to the audience brilliantly with perfection. This made him hero of the troupe in the long run. His outstanding portrayal of the character of Chhatrapati Shivaji in the stage play Shivaji Kanda Hindu Rajyam earned him the title "Sivaji"[8] which was conferred on him at a public function presided over by E. V. Ramasamy, a social reformer. Since then, he was referred by the name Sivaji.
Until 1955, Ganesan was a staunch sympathizer of the Dravida Munnetra Kazhagam. In 1961, he became a strong supporter of the Indian National Congress. Due to his popularity, he was requested to be part of the National Congress Tamil Nadu. His respect for Kamaraja Nadar made him to support Congress. He was made the Member of Parliament by then prime minister Indira Gandhi Indira Gandhi's death in 1984 also brought Ganesan's political career to an end.[36] After 1987, he floated his own political party (Thamizhaga Munnetra Munnani). He became the president of the Tamil Nadu faction of the Janata Dal in 1989. Unlike his highly successful acting career, his political career was rather unsuccessful.
When President Gamal Abdel Nasser of Egypt visited India, Sivaji Ganesan was the only individual, granted permission by the Indian Prime-minister Jawaharlal Nehru, to host a party for Nasser. Nasser was given a number of valuable mementos depicting the civilization and culture of South India.
Sivaji Ganesan was the first artist from India to visit the United States, in the cultural exchange programme of the US government, in 1962, invited by the then President John F Kennedy, where he took the rôle of India's cultural ambassador. During his visit there, he was honoured by being made the honorary mayor of Niagara Falls, New York for one day and was presented the key to the city. The only other Indian who has had this honour before Ganesan was Jawaharlal Nehru.[44] On 22 March 1976, he went over to Mauritius on an invitation from Prime Minister Ramagoolam and took part in their independence day celebrations and stayed as their government guest for four days.
During his visit to the United States in June 1995, he visited Columbus, Ohio. Participating in the dinner hosted to honour Ganesan, the Mayor of the city, Greg Lashutka, honoured him by announcing him as an honorary citizen of Columbus. On the same occasion the Mayor of Mount Vernon read out and gave him a special welcome citation. The Columbus Tamil Sangam was formulated on that day and Ganesan was made the honorary President of that association.