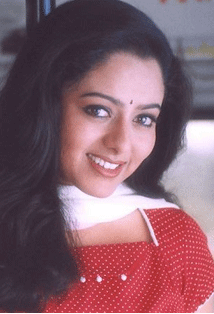 Alias
Soumya
Age
46 years
Height
5'7"
Occupation
Actress
Language Worked in
Hindi, Telugu, Tamil, Kannada, Malayalam
Spouse

G. S. Raghu

Birth Place
Mulbagal, Kolar, Karnataka, India
Eye Color
Black
Hair Color
Black
Religion
Hinduism
Education
Intermediate
Parents

Satyanarayana

,

Manjula

Brothers

Amaranath

City
Bengalooru
oundarya (Kannada: ಸೌಂದರ್ಯ Telugu: సౌందర్య; born Sowmya; 18 July 1972 – 17 April 2004) was a Telugu
She moved on to Telugu films, where she achieved greater popularity and success
She acted in around 90 Telugu films, such as Pavithrabandham, Pelliichesukundam with Venkatesh, found to be a popular pair. Annaya, Chudalani undhi with Chiranjeevi and others like Nagarjuna,balakrishna, Srikanth, Rajendraprasad, Jagapathibabu, Krishna,vineeth, abbas ,prabu deva ,vikram mohan babu ,arjun saikumar, vinod kumar, j d charavarthi etc. She acted in several female-oriented roles like Thommidi nelalu, Arundhathi, Maa inti adapaduchu, etc. Directors like Ragavendra rao, S.V.Krishna Reddy, Kodi Ramakrishna, Kranthi Kumar gave her lead roles.
Soundarya acted in one Hindi film, Sooryavansham. She was in Tamil films, such as Arunachalam and Padayappa alongside Rajinikanth, Kaadhala Kaadhala alongside Kamal Haasan and others. She produced and acted in the Kannada film Dweepa Aptamithra, with Vishnuvardhan. She performed in Malayalam movies opposite Jayaram and Mohanlal.
Dweepa won the Golden Lotus, which is given for best film of the year. It also won the Karnataka state awards for Best Actress, Best Film and Best Cinematography, and was featured in five international film festivals.[citation needed] She bagged seven Filmfare awards and three Nandhi awards from the government of Andhra Pradesh.
She was compared to great actress Savithri in her acting. She is the one of the finest actresses who believed in acting and not showing skin (glamour). In an interview with vetarian actor Akkineni Nageshswara rao said that if old blockbuster movie Mayabazar is to be remade nowadays means ,For the role of savithri he sugessted soundarya would suits the best as sasirekha.
Soundarya was offered the role of Draupadi in the remake of Narthanashala. Soundarya along with Balakrishna started shooting, but the film got shelved for financial reasons; the actress died before shooting continued.
Personal life
Soundarya was born in the village of Ashtagrama, Gangigunte, Mulabagal taluk, Kolar. She was an Iyer Brahmin. She married her maternal uncle's son and childhood friend, software engineer G. S. Raghu, on 27 April 2003. She planned on promoting public welfare. Her husband and sister-in-law founded the Amara Soundarya Social and Educational Trust [ASSET]. Soundarya maintained an orphanage in Bangalore. She donated money to numerous educational institutions during her lifetime.
Soundarya died on April 17, 2004, in a crash near Bangalore, when the plane she was traveling in caught fire immediately after take-off. The plane, a Cessna 180, chartered by Agni Aviation, left Jakkur Airfield at 11:05 AM. Shortly after take-off the plane turned left, plunged and crashed in an open field about 500 m from the airport. She was on her way to Andhra Pradesh to campaign for the Bharatiya Janata Party for the coming elections. Her brother, Amarnath, a producer of Kannada films, also died in the accident. She was awarded the Karnataka State Award posthumously, which was received by her mother.