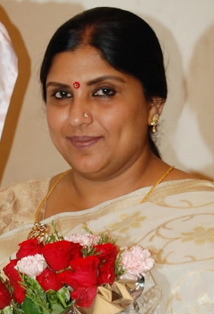 Age
4 years
Height
5'8"
Weight
78.00 Kgs
Occupation
Actress, Singer, Dialogue, Story, Screenplay, Director, Producer
Language Worked in
Telugu, Tamil, Malayalam
Spouse

Raj Kumar

Birth Place
Chennai, Tamil Nadu, India
Eye Color
Black
Hair Color
Black
Education
She attended the Church Park convent school in Chennai
Marital Status
Married
Parents

Pakirisamy

,

Girija

Favourite Cuisine
South Indian
Favourite Color
White
City
Chennai
Sripriya is an actress who played leading roles in the 1970s and 1980s in South India. She has acted in Telugu, Kannada, and Malayalam films, but her main contribution was in Tamil films, where she has acted in over 200 films.
Sripriya was born in Chennai. She attended the Church Park convent school in Chennai. She is a trained classical dancer and hails from a professional music family. Her uncles are Natiyakalachakravarthy Padmashri K. N. Dhandayuthapani Pillai and Nadaswara Chakravarthy Shri Rajamanickam Pillai. She is married to actor Raj Kumar, son of Raja of Ramnad Shanmuga Rajeswara Sethupathy, with whom she has two children named Sneha and Nagarjun.
She first faced the camera on November 19, 1973 for the film Murugan Kaattiya Vazhi directed by P. Madhavan. She was awarded the Kalaimamani award in the early 1980s. She was in the jury of the National Awards committee and was a member of the State Awards committee. She is also a visual artist and the proceeds from her paintings are given to social causes, mainly for children.
She is also a writer and has penned the dialogues for her TV serials and movies. She has acted with Rajinikanth, Kamal Hassan, Sivaji Ganesan, Jaishankar. She was Rajinikanth's leading lady in most of his movies and the pair mainatined a perfect on-screen chemistry. She went on to act with Rajinikanth in 28 movies.[1][2] From 1973, she has starred in more than 300 films in all the four South Indian languages, including 200 in Tamil.
In addition to acting, she has directed films and television serials. By 2007, she has directed five serials, of which she considers Viduthalai the best serial. She has also directed four films, two in Tamil and two in Kannada.