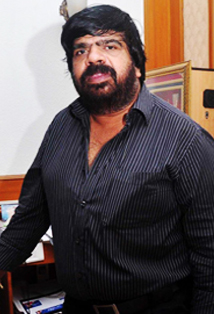 Alias
Vijaya Thesingu Rajendar
Age
63 years
Height
5'7"
Weight
60.00 Kgs
Occupation
Actor, Music Director, Singer, Dialogue, Story, Cinematography, Director, Producer
Language Worked in
Tamil
Spouse

Usha Rajendar

Children

Silambarasan Rajendar

,

Kuralarasan Rajendar

,

Ilakiya Rajendar

Birth Place
Mayavaram, India
Eye Color
Black
Hair Color
Black
Religion
Hinduism
Marital Status
Married
Favourite Actors

M G Ramachandran

Favourite Cuisine
South Indian
Favourite Color
Black
City
Chennai
Vijaya Thesingu Rajendar is a Tamil film actor and director as well as a composer, screenwriter, cinematographer, producer, singer,and playback singer. He is also a politician in Tamil Nadu, India. He is the father of actor Simbu T. Rajendar is married to former actress Usha and they have three children. He has two sons: Silambarasan, Kuralarasan and one daughter: Ilakiya. His wife Usha Rajendar served as the Producer for his films like Kadhal Azhivathillai.
T. Rajendar started off in the Kollywood industry making successful films which included him as an actor, playback singer, dancer and scriptwriter. He gained popularity through his one-of-a-kind weird style of acting. T. Rajendar is well known for writing good heart touching lyrics and composing music in his movies and also using rhythmic Tamil dialogues throughout his movies. In addition, he has a reputation of not touching the heroines or indulging in romantic scenes like most actors-directors. T. Rajendar generally plays a lot of roles when making his own films. He normally serves as, but not limited to director, actor, dancer, songwriter, screenwriter, costume designer, cinematographer, choreographer,art director,production manager.playback singer. During the 1980's all his movies were blockbusters running for years and the songs were also well appreciated. He is known for introducing new faces in all his movies and most of the Heroines who debuted in his movies made it big in South Cinema like Amala, Nalini, Jyothi, Jeevitha.
T Rajendar had started talking with common people through Skype and discussing about latest politics in the recent years. A bad thing about T Rajendar is that, he used to brag about himself and made some African and Oriya songs which he did trying to convince the people that he can survive anywhere but it turned out to be comical and annoying with people making fun of him throughout the internet. Internet comedian MysticTamil.com, has released numerous memes and articles mocking T Rajendar.
T. Rajendar also distributes films under his home banner 'Kural TV Creations'. His latest film distribution, as of mid-2011 is his son Silambarasan's film Vaanam which will be distributed in the Chennai and Madurai region.