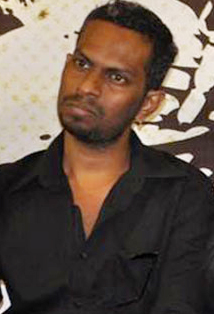 | | |
| --- | --- |
| Alias | Thiagarajan |
| Occupation | Director |
| Language Worked in | Tamil |
| Birth Place | Chennai, Tamil Nadu, India |
| Eye Color | Black |
| Hair Color | Black |
| Religion | Hinduism |
| Education | He enrolled for a Visual Communications course at the Loyola College |
| Favourite Color | Black |
| City | Chennai |
Thiagarajan Kumararaja is an Indian film director and screenwriter. He made his feature film debut with the critically acclaimed gangster film Aaranya Kaandam (2011), which earned him the Indira Gandhi Award for Best First Film of a Director at the 59th National Film Awards.
Kumararaja began writing his maiden film in December 2006. Although he had wanted to make a "racy film" - he wrote the climax part first, before going on to add multiple storylines - he said that the film had eventually turned out to be a "leisurely paced film, taking its own time to unfold. Kumararaja met Charan in January 2007 and narrated him the script for two hours.
Filming was supposed to commence by late 2007, but Charan opted to produce another film first. Aaranya Kaandam was launched in December 2008 with Bollywood actor Jackie Shroff, who was being introducing to Tamil films, Ravi Krishna and Sampath Raj in the lead roles. Kumararaja took more than one and a half years to complete the film, which was entirely shot in and around Chennai.
Kumararaja expressed that he made the film for a matured audience and not for children,[17] while adding that he expected difficulties in the censorship. Since he wanted to present the film uncompromisingly to the audiences, he and Charan approached the Central Tribunal at Delhi,[18] that cleared the film. Dubbed as the first neo-noir film in Tamil cinema, Aaranya Kaandam opened to strong critical acclaim, winning the Grand Jury Award for Best Film at the 2010 South Asian International Film Festival and two prizes at the 59th National Film Awards, including the Indira Gandhi Award for Best First Film of a Director for Kumararaja.