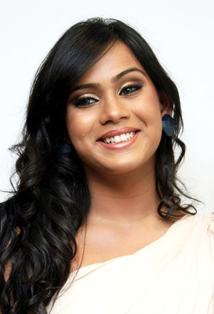 Alias
Thuls, Thulasi
Age
5 years
Height
5'8"
Weight
45.00 Kgs
Occupation
Actress
Language Worked in
Telugu, Tamil
Birth Place
Kerala
Eye Color
Black
Hair Color
Black
Education
Podar international school
Parents

RS Nair

,

Radha Nair

Sisters

3009

Favourite Actors

3009

Favourite Actresses

3009

City
Chennai
Thulasi Nair (born 25 October 1997) is an Indian film actress who works in Tamil language films. She made her debut in director Mani Ratnam's 2013 film, Kadal.
Thulasi is the daughter of former Indian actress Radha and a hotelier Rajashekharan Nair and is the niece of actress Ambika. She has two siblings, Vignesh Nair and Karthika Nair who is also a South Indian actress
She is making her debut at a very early age of 15 in Maniratnam's Tamil film, Kadal opposite Gautham Karthik. Though Thulasi was auditioned for the role during the casting process, she was not selected as Ratnam opined that she was too young for the role, Post Samantha's exit, she was roped in.
During the making, Mani Ratnam requested their respective parents to not let Thulasi or Gautham Karthik be snapped by anyone. Additionally they had refrain from public appearances. The actress had also refused to appear at an interview for the same reason.[5] Her second movie that she has signed up for another Tamil film called Yaan pairing with Jiiva.