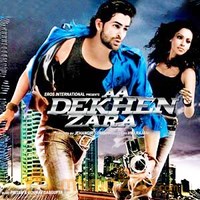 Aa Dekhen Zara Movie Reviews
Aa Dekhen Zara Review
by

MyMazaa.com
---
Obviously, very few auteurs composed unique fictions on the supernatural thriller genre. Well, none presumed to go for the most speculative take on such genres. Perhaps the raise of new filmmakers inspired by western flicks is coming to the forefront with groundbreaking motifs. Aye! You know something…. It all started when the Japanese filmmaker Tsuruta Norio's 'Yogen' (Premonition) topped the charts of World Box Office. If you're all guessing what this plotline is all about, it's there right in the title. A Newspaper carries stories that would happen the very next second once read. Japanese flicks never left anyone getting inspired, even Hollywood. Things got more exemplified with 'Grudge', 'Ring' and more that were marked coherent factors sans absurdities that we often notice in other films.
If 'Yogen' was all about newspapers, Ring - 'A Video Tape', '13B' about TV Series, how about a phenomenal camera exposing future. Quite interesting, isn't? Befittingly, the film top-notches with a brilliant script unforeseen ever in Indian film scenarios as it treads interesting parts.
'Aa Dekhen Zara' goes far-fetched with powerful characterizations and substantial screenplay, though it stumbles at few points.
Not all wildlife photographers do become Mohit Chauhan who's prone to 'Thrills' n 'Chills' across every moment. Surely, his famous statement "a wildlife photographer in India, being charged by a tiger sometime in your life is almost a certainty" hasn't got anything to do for a guy like Ray Acharya (Neil Nithin Mukesh).
Ray Acharya is a struggling wild life photographer who finds 'misfortunes' right on his shoulders. The guy hasn't got a single paisa to run around for his every need until his grandpa dies passing on an extraordinary camera. Nevertheless, Ray who isn't aware about the supernatural powers of this photo-cam clicks it haphazardly on Simi (Bipasha Basu), an aphrodisiac DJ who resides in the opposite apartment (this guy has been drenched with peeping-tom mania into her Kidkiyaan…). Ah! He's stuck in appalling waters as one of the photographs depicts herself getting shot at a bar. It's almost like Ray's fortune gushing through boundlessly. Not just does he save his girlfriend's life, but also turns into a millionaire overnight as he clicks at the lottery ticket, race horses to auspicate the right one.
Meanwhile, you've the worst baddies in town knocking his door for grabbing the sorcerous camera. In some manner, he sorts out things through hand-to-hand combat. Wait! This isn't a happy ending for the lad. He's topsy-turvily frizzled with the most awful situation, where camera starts prognosticating his awful future.
When previous week's releases catered to specified groups: either multiplex or single screen audiences, 'Aa Dekhen Zara' savors to the best for all… Possibly, for those buffs of 'Final Destination Series', it may not exceed your expectations. But, pace dropping off in the latter part adds to the negative traits though loaded with finest songs, it eclipses those diminishing factors.
Neil Nithin Mukesh is simply his best as Ray. The actor had proved his adept skills with in his debut 'Johnny Gaddar'. He doesn't strain himself overreacting to the riskiest situations in the frame. Neil is cool striking limelight with a naturalistic appeal. Totting up is his elegant looks and gestures that draws commendable conclusions. Scrumptious Bipasha shares best chemistry with Neil. Rahul Dev as the baddie does a laudable performance. Musical score by Gourov and Pritham are pleasant to the ears though the camera could've been far better.
Jehangir goes proficient with an unparalleled film. As mentioned, fine screenplay and powerful characters (including the strange camera) grounds the film on best remarks.
'Aa Dekhen Zara' - Zaroor Dekhna Hai… At box office, the film is sure to sustain for next couple of weeks. It's a doubtless statement, that we can ensure.