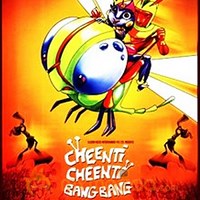 Cheenti Cheenti Bang Bang Movie Reviews
Cheenti Cheenti Bang Bang Review
by

MyMazaa.com
---
Patently, Cheenti Cheenti can be praised for being 2nd Indian non-mythological flick churned out and first animation film in India made in cell-animation (manual) using hand drawn pictures thereby ensuring international quality standards. There are more than 9, 60,000 drawings used in the film. Alas! Despites possessing such uniqueness, the film falls out of expectations, for loose-ends on every aspects and nothing seems to off top-notched quality. Of course, amidst of advanced animation flicks hitting across far-flung corners of the globe, the film doesn't prove of its worthy vying with it. R.D. Malik should've better made this flick, if he had something unique to deliver or else shouldn't have envisaged about it. Indeed, it cannot be watched just for the sake of tag 'Made in India'.
The story revolves around two kingdoms of Ants - red and black: Near the pond, on the west side of a dilapidated bungalow, lie two kingdoms of the red and the black ants constantly at loggerheads. It erupts into a major showdown when Laal Budda (old ant) is accused of harassing Kalibou, a hand maiden of Kaali Rani. She complains to Kaali Rani, who insists that Kaala Raja behead Laal Budda! Angered by the audacity of the Kaala Raja, Laal Raja wages an attack on his kingdom. To make things worse, Lohit the Laal Prince falls in love with Krishna the Kaala Princess and elopes with her.
The supporters of the Kaala Raja are Mighty Girgit...and the Frog...But some have vested interests. The Laal Raja also has his supporters, including the magical Beyallis Karma.
The film seems to have been produced just eyeing on kids, but then it's so precise even they wouldn't be entertained with this fallible piece of work. It's been a clichéd theory that most of animation flicks doesn't brim up with perfect screenplay. Merely, because the characterizations keep dominating and you wouldn't notice even the blatant flaws over there. Cheenti Cheenti€¦ has caricatured characters that don't exert a pull on audiences. The most exemplifying factor would be so-called chameleon that never changes its colors and a frog that never stops croaking. More specifically, a mongoose that looks like a mouse is really ridiculous and this isn't the end, for you would point out a long-listed absurdities.
Getting on with voices rendered, it's just Arsani who steals the show. But again, improper lip-syncs diminish the good credits. Well, looks like rest of dubbing artists haven't strained themselves for best efforts.
Nothing great to speak about technical aspects; neither animation nor the musical scores goes convincing. Perhaps, the biggest spoil-factor of film is that it's 2-dimensional all throughout.
On the whole, Cheenti Cheenti Bang Bang fails to get added with Antz or A Bug's life€¦
Verdict: Better avoid it
Rating : *