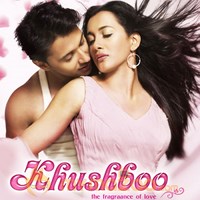 Khushboo 2008 Movie Reviews
Khushboo 2008 Review
by

MyMazaa.com
---
Pahlaj Nihlani the bigwig producer of films such as €˜Ankheein€™,€™Andaz€™,€™Talaash€™,€™Mumbai se aaya mera dost€™brings this week some €˜Khushboo€™ that lacks fragrance.
Ambitious Raghu (Rishi Rehan) needs to go to Chandigarh before his posting to New York. For Raghu, career takes top priority in his life. In Chandigarh, he seems to be destined to cross path with a girl, to whom he is inadvertently drawn. But each time Pinky (Avantikka) flits away, even before he can approach her. When they do meet and get to know each other, they realize that they share a very strong bonding. And as usual Pinky once again vanishes from Raghu's life.
When they accidentally bump into each other, Pinky has one request... that he meet her family just once. For Pinky, family takes top priority in her life.
Raghu meets the big, boisterous Punjabi family, only to be drawn into the warmth of the large family. Will Raghu be able to turn his back on a loving family? Is career more important than a loving family? Raghu is in a dilemma, but not Pinky.
Here is yet another film which draws resemblance to €˜Jab We Met€™ and tries to draw in the emotions with Avantikaa trying to be Preity Zinta from €˜Kya Kehna€™.
The Director Rajesh Ram Singh whose name has been very much overshadowed for unknown reasons fails to impress. The story by Pathik Vats is completely aimless.
With just an overload of Punjabi€™s with the likes of Prem Chopra and the bunch, the film heads nowhere.
Music by Adnan Sami is ok, with €˜Hum Jo Mile€™ being a melodious tune. But with not much in the plot the complete bunch of 6 tracks just make you pray for a quick end to the film.
The film is an overload of lame dialogues and events. Such as the scene where the Heroine€™s uncle orders a Tiramisu from New York to Chandigarh just for the hero€™s birthday.
On the acting front, Avaantika is extremely noisy. As some may consider her voice to resemble Kajol€™s , the fact is that she goes overboard and irritates. As for Rishi Rehan , the producers maybe wanted him to ape Salman Khan from €˜Pyaar Kiya Toh Darna Kya€™ .Rishi Rehan overdoes it with his body language and weird expressions specially the movement of his eyes. He requires a lot more improvement.
Major Bikramjeet who has a very minute role in the film is quite a talented actor and needs to tapped properly. It€™s nice to see Shammi perform the granny role after long gap. Prem Chopra is ok.
€˜Kushboo€™ lacks firstly any names that would draw the masses and the topping comes with a terrible screenplay and plot that has been done to death.
Rating : *