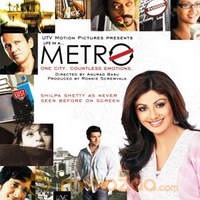 Life In A Metro Movie Reviews
Life In A Metro Review
by

MyMazaa.com
---
This is an out and out Anurag Basu film. Period. No if, no but!
For someone who got his first big success with MURDER and followed it up with a much better product GANGSTER, he takes you to a completely different journey called METRO.
And no, let's not even start placing the film into the bracket of episodic films. It would be criminal to do so. Actually it won't be wrong to say that it has become almost fashionable for media to paint a film as episodic since that appears to be the easiest thing to do.
METRO is far more mature and delves into the lives of multiple individuals who are all connected to each other. So the movement here is from one scene to another rather than from story to another. This is where the strength of METRO lies. It's scenes. And it's dialogues.
One has to struggle to remember hard that when was the last time one came across such an utmost original script with excellent never-heard-before dialogues to boost the screenplay further.
Picture this. When 38 year old Irrfan Khan [who likes to be called 35] takes a little younger Konkana Sen to the top of the terrace and vent with a scream, he pats her on the back and says, "Good job, your servicing is done. Now live on with life." Or later in the film, when Konkana finally realizes her love for him, a flabbergasted Irrfan asks with a quizzical expression, "But all the dresses have been made to fit the girl I am about to get married".
Now that's what makes METRO entertaining even though the constant spats of Shilpa-Kay Kay Menon or the serious immersed-in-lust relation of Kay Kay and Kangana make you look forward to what 'worse' could happen next. And in the meanwhile, you know that somewhere round the corner there would be Irrfan and Sharman Joshi who would lighten up the screen every time they appear.
Sharman has always been adorable. Here he actually makes you weep a tear too as he plays a role which Shahrukh Khan describes as his saddest ever in YES BOSS. He is a man who just knows two words - YES BOSS, especially when someone wants the keys to his apartment where he could have a lusty rendezvous.
He has his reasons though. He wants to grow fast and reach the top, though one fine day he keeps his foot down (and takes his key back) when he realizes that his boss (Kay Kay) is using his own bed to sleep with the girl he has always loved - Kangana.
On the other hand, a not-so-silent love blooms between Shilpa and Shiney, all in a matter of 4-5 weeks. He is vocal and persuasive, almost like a child, when all he wants is the company of the woman whom he started meeting on the streets of metro. He wants her to be with him with all her responsibilities and just wants to live on without any strings attached.
The setting, though complex on paper, becomes quite simple on screen, thanks to Anurag Basu who tightens the screws to make METRO a crisp 2 hours affair that makes you enjoy every moment you encounter....well almost!
Moments between Dharmendra and Nafisa are feel-good to begin with. Scenes like Dharmendra jumping the railway tracks to meet the woman whom he had left 40 years back or eating 'kheer' directly from a 'kadai' do not fail to make you adore the man all over again. Surprisingly, in the second half, it turns out that the only reason for Dharmendra's presence was to have him mouth a few dialogues about life, its beauty and the regrets that one may have if life is not lived as told by the heart. Fair point, but one of those rare instances in the film that are clichéd. Also cliched is the way Shilpa reaches her eventual destination. Why go safe Anurag when you could have gone a full hog?
Thankfully, these are just some of the minor blemishes in the film that otherwise has originality as its core. Entire opening sequence featuring a continued war of words between Shilpa and Kay Kay followed by the prolonged 'room booking' sequence picturised on Sharman brings on shock value and humor respectively. Also sensitive is the scene where Sharman shows his father's dream land to Kangana.
Climax moves in a rapid manner with Konkana/Irrfan bringing on laughs, Kangana bringing on tears of happiness and Shilpa/Kay Kay realizing what they wanted with their marital lives. With multiple emotions being served on the platter in an alternate manner over duration of 10 minutes, Anurag Basu brings his own stamp on film making here. Commendable.
Also commendable is the manner the entire BAND METRO is placed. Comprising of Pritam, James, Soham and Suhail, the band comes at just the right places in the film and brings an altogether never-experienced-before mood to storytelling. Though in the second half it looses its charm a little, especially impressive is the way the band is placed in the first 15 minutes of the film, which may get an entry into the record books for the longest ever opening credit roll.
The film belongs to each and every character in the film but if someone stands out it is Irrfan Khan. He shows yet another facet of portraying a character which almost convinces women that there is nothing wrong if he gazes at their assets. Shilpa delivers her best performance ever and looks extremely gorgeous even in daily wear while Konkana proves yet again that she deserves to be utilized more for her immense acting abilities.
Sharman is likeable as always and delivers yet another contrasting yet noteworthy performance after STYLE and RANG DE BASANTI. Kangana and Shiney may have relative smaller parts but they ensure that they do a good job in the limited screen time they get. From Kay Kay, it is now quite obvious to expect nothing but a very good performance and hence there is no surprise in seeing him bring to fore a character which is MCP as its best.
Now this is one film that couldn't afford to go wrong. With so much of stakes involved, it was up to Anurag Basu to go all out and make a film that would justify all the buzz and hype that was surrounding it ever since it was conceptualized.
And doesn't he deliver goods?