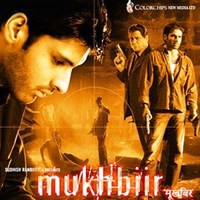 Mukhbiir Review
by

MyMazaa.com
---
It€™s been a while now that €˜Mukhbiir€™ has been mired with problems that have given the film a back seat. First with a series of events involving change of producers from Pritish Nandy Communications (PNC) to Color Chips and the legal money transactions to a postponement in the release date, the film has been badly hit.
Mani Shankar who established himself with €˜December 16€™ and then went on to €˜Rakht€™ and €˜Tango Charlie€™ brings forth the story of an informer.
Synopsis€¦€¦.
In the secret world of shadows where good and evil are deeply enmeshed,the dark world where fear stalks through streets, where the thin veil of sanity can get ripped off in an instant revealing the hidden face of stark terror-on that razors edge live the chosen ones, wearing masks that can never be taken off.
This is a film about a young man and the many masks he wears enacting a desperate drama where forgetting the lines means instant death. This is the story of the many lives he has to live the many deaths he has to die.
Director Mani Shankar would have wanted his film to take off very much the €˜Bourne Identity€™ way. Though he tried to spin it a little bit here and there by asking the viewers to have pity on the informer or €˜Mukhbir€™, he fails miserably.
The film bores and bores and bores. There is a complete lack of believability and connect with the storytelling. What€™s with those close-ups of Samir Dattani time and again with those so called €˜Shayari€™s €˜or one-liners? It€™s just lame.
Samir seriously requires much more to look like that informer. His delivery is poor and his expressions are kiddish. From which angle does he act ( forget look ) like an informer?
The majority of characters have been simply scattered around without substance. Suneil Shetty just walks in and out and leaves no scope for understanding. Om puri does his bit well even though he often confuses.
Raima Sen was just a waste. Man, the way she falls in love with Mr.Mukhbir and breaks into the typical €˜Naach Gaana€™ is ridiculous.
Sushant Singh does his bit of massaging the ladies and getting to do some Bhaigiri. Alok Nath too joins him on this bit.
On the whole the movie comes across as a very jaded one. With the delay and competition from former producers PNC€™S €˜Ugly aur Pagli€™, the film is bound to face rough waters at the box office.
Rating : *