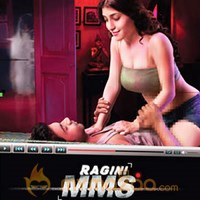 Ragini MMS Review
by

MyMazaa.com
---
Story:
The film tracks the story of a young couple Ragini and Uday, who go out to spend a weekend at a friend's farmhouse on the outskirts of Mumbai to have sex. Ragini is unaware of his boy friend's antics, who plans to shoot a sex tape and sell it to a good amount. However, a third person comes into the picture and plays spoilsports as they find themselves stuck in the house rigged with cameras that are meant to capture their intimate moments.
However, the cameras capture something that is beyond the realm of human understanding, something supernatural. Both Uday and Ragini are left at the mercy of the unexplainable paranormal force.
Plus Points:
If you are looking for a perfect blend of horror, sex, real life and thrill then 'Ragini MMS' is sure to grab your eyes. Pawan Kriplani, the director uses his ample resources to film this genre brilliantly. The director toils with the audiences; silence followed by scenes which are completely paranormal. Some of the shots that create curiosity only add up to the spice of the film.
Though on the lines of Hollywood hit 'Paranormal Activity', 'Ragini MMS' is certainly desi at heart. The director and the camera man, Tribhuvan Babu bring out extraordinary visuals that are bone chilling and creepy. Bit songs in the film are inserted well and background score lifts up the tempo.
Special mention to the lead pair Kainaz and Raj Kumar, they've performed brilliantly. Although it's their first outing they leave out their impression so poignantly. Shedding all inhibitions they both make the film as real as it gets.
Minus Points:
Not too many we can say but sure it would have been great if the director chopped the film shorter in the second half as it was a tad bit long. At times it was felt that the movie was shot with handy cam considering that it still shivers and freaks you out.
Final verdict:
Go for this movie. Experience a new and first of its kinda feeling. Rumors about it being completely a sex based movie will be brushed aside after watching. The intimate scenes and the cuss words by the male lead only add up to the reality quotient of the film. 'Ragini MMS' is surely an edge of the seat thriller as the combo of sex and horror makes it a worthwhile watch.