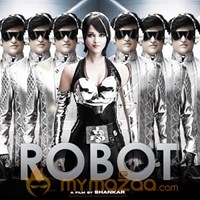 Robot Review
by

MyMazaa.com
---
'Robot' is the kind of film that leaves you with an enthralling feeling once it ends. In fact you are almost breathless as the end credits start rolling since the action is so fast moving, energetic, imaginative and above all, well executed that you can't afford to look anywhere else but the screen. Clearly, this one is action cinema at its best and if pre-climax and climax are anything to go by, 'Robot' ensures that the film would see a repeat watch by quite a few.
Now that 'Robot' is only impressive only in its last 30 minutes. From start till finish, this is one film which never fails to grip you. As a creator (Rajnikanth - the human being) and his creation (Rajnikanth - the Robot), the characters are well established for the first one hour that only helps the ground to be set for further drama to follow. Of course you do wait for the drama to kick start, especially so since one is pretty much aware about the plot which is centred on a 'robot' creation going wrong.
Hence, in the process of doing so, director Shankar spends quite some time in character definition of his principal cast. This means that the film is not just about the double role of Rajnikanth. It also has Aishwarya Rai Bachchan, the designated leading lady in the film, playing an important, visible and lengthy role. Really, one would have expected her to be totally overshadowed by Rajnikanth in the film. Yes, of course at the end of it all, it is Rajnikanth who stays on in audience mind. However, one does take back beautiful memories of Aishwarya as well.
One would have expected for a film with a title as 'Robot' to be totally action packed from start to finish. However, the first half is primarily embellished with light hearted moments and a few dramatic sequences. Of course there are at least three major action sequences as well with the one in, on and around the train being one of the best ever seen. However, it is surprising that the VFX for the sequence which is centred on a bunch of buildings catching fire isn't as impressive.
The interval point is brilliant though with the 'Robot' finally getting the sense of 'feelings' as well, hence leading to a twist in the tale. What follows for next 30-45 minutes is surprising not as striking as the first half since the film starts focusing on Robot's one sided love story with Aishwarya. Frankly, after a while, you wish that the drama returns to the screen.
Well, once that happens, there is no looking back as Rajnikanth turns into an out villain towards the latter part of the film. His inimitable swagger coupled with dialogue delivery (though dubbed by someone else) reminds one of Rajnikanth of yore which makes 'Robot' a memorable affair. Also, the VFX completely take over the proceedings during the last 45 minutes, hence bringing to screen the kind of spectacle that has never been experienced before in Indian cinema at the least.
This is where a fan's dream of seeing Rajnikanth achieve the impossible comes into play. With hundreds of Rajnikanth taking different forms of spheres, dragons, Ironman and many more, the sequence of events have to be seen to be believed. Frankly, it is impossible to let your eyes look at anything else when these frames come into play.
While VFX is clearly the best that has been seen in Indian cinema so far and is also comparable with the best of the best in international cinema, the songs leave a lot to be desired. Though picturised imaginatively, poor lyrics coupled with forced placement in the narrative only increase the film's length by at least 20-25 minutes. Really, makers could have done away with so many songs and instead continued to focus on drama and action.
Eventually, 'Robot' turns out to be a film which - just like 'Avatar' - is an experience in itself rather than just a film. Of course the film's script is not as powerful and gripping as Rajnikanth's last 'Sivaji' However, the film deserves at least a one time must watch for it's execution, Rajnkanth's style quotient and of course some world class VFX. Go, watch it on the big screen and enter into a different world altogether.