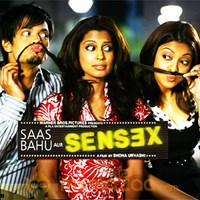 Saas Bahu Aur Sensex Movie Reviews
Saas Bahu Aur Sensex Review
by

MyMazaa.com
---
Alas! Her directorial debut 'Chupke Se' was a slipshod piece of work. Well, Sona Urvashi demarcates with Saas Bahu Aur Sensex that perfectly lets her stride, winning laurels for a unique theme. In reality, what's so topping the chart in television channels of India? Saas-bahu show with its high TRPs and marking everyday's sensex graphs. One's passions for either of these two are insatiable.
Fine, it's time for grand fiestas in Bollywood. New themes, bold attempts and great surprises: flicks sans A-rated star-casts and big budgets spelled with top-notched quality have been engrossing us. Rock On, Wednesday and here comes one more colligating along this queue. Not as appealing as the previous releases, But Saas Bahu Aur Sensex has something prodigious for the audiences.
Don't let yourselves with disheveled imaginations that flick centers on just two panoramas: Saas-Bahu shows and Sensex manias. Shona Urvashi has something more indeed of fun, frolic, emotions and congruous characters.
So, everything is fine with Saas Bahu Aur Sensex and where does it get a bit decelerated. A lengthy screenplay taking a very long time to reach its idyllic climax gets you bit dragged. Shona Urvashi moves us along with cool ambience and you are sure to relish it.
With her mother Binita (Kirron Kher) divorcing her husband in Kolkata and heading to Navi Mumbai, Nitya (Tanushree Dutta) seems to be more alienated in the new ambience. Tangled with knots and snarls, the cherubic missy finds relief in one of her neighbors, Ritesh [Ankur Khanna). It's resurgence of new life for her mother Binita too as she is befriended by women in the colony and enjoys her time in kitty parties. Her elatedness continues once she meets Firoz (Farouque Shaikh), a flakey stock broker, who assists her in investing shares left by her husband€¦ Meanwhile, colony ladies envisage about Binita and Firoz. Merely, they realize as she acquaints them all to Firoz and mania of sensex haunts them now.
Here begins the cool-icy ride of rise-fall in sensex, triangular love stories, lives of different families in the colony, one sided love of stock broker and much more.
Phenomenal flick in terms of theme, but certain ascribes lets us feel it's clichéd. The best illustrations would be with the characters of Nitya and Masumeh; stereotypical missies, one with true love and other on the pursuit of wealth. Eloping from the marriage hall, Nitya's love at hidden sight makes your guess right.
Housewives budging from Saas-Bahu shows to sensex are refreshing, but it's so ridiculous to see sensex with 30,000 points in the climax and Shona should have precisely avoided this.
Kirron Kher steals the show with her enchanting performance. Be it her motherly affection or her reactions to various situations; she top-notches with it. Hats off to Farouqe Shaikh for his decent performance and he adds more to the humor part. Tanushree Dutta on her deglamorised role grabs your attentions and so is her naturalistic performance. On the pars, Ankur Khanna does justice to his role.
Getting on with technical aspects, it's the best work from entire team. Be it Rodriguez's cinematography or musical score by Blaaze, Bipin and Randolph, they are most adept. For a great convincing part, you don't have dream sequences or duets and none of the songs last for longer minutes. Rodriguez with his scintillating cinematography delivers the apartment Colony in Mumbai with its best scenic.
On the whole, Saas Bahu Aur Sensex is a great delight with its new genre. Well, it's a exulting fete for miniscule audiences.
Verdict: Bold and the beautiful
Rating : ***1/2