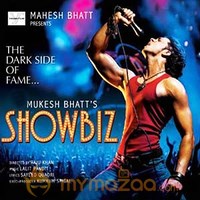 Showbiz Review
by

MyMazaa.com
---
When Dhokha followed Awarapan which followed Woh Lamhe€¦ that came after Holiday, we knew that it was high and more time that Vishesh Films and the three Bhatts changed their formula. But they do not seem to have learnt their lessons at all!
Time was when their films were either straight thrillers or made some subtle point (Murder, Zeher, Kalyug, Gangster and even flops like Paap). But somewhere that too got subverted. There is a message in Showbiz, but it is overdone and so the effect is underdone!
Time was when they gave breaks or breakthroughs to music makers, directors, stars and character artistes with good scripts that made for anything from average runners to 50-weekers, with a stray flop in between. Today they have had five flops in a row.
Let us not forget that the Bhatts were mentors and their films launching- (or even re-launching-) pads for names like Anu Malik, Nadeem-Shravan, M.M.Kreem, Kumar Sanu, KK, Shreya Ghoshal, lyricists Sayeed Quadri and Neelesh Mishra, Vikram Bhatt, Anurag Basu, Mohit Suri, Emraan Hashmi, Mallika Sherawat, Shamita Shetty, Amrita Singh, Dino Morea, Shiney Ahuja and Bipasha Basu.
Sadly, in their over-confidence as mentors they began thinking that a Vishesh protégé had to become big, and thus they started endorsing mediocre talents, now too numerous to mention, in every field including off-key music makers from across the border, charisma- and talent-less new heroes and heroines, and filmmakers who were not up to the mark!
Showbiz is the latest and hopefully last of such films. Not that it is as abysmal as some of the other recent blunders. To straightaway move to its assets, Lalit Pandit€™s score yields two good numbers, €œKaash ek din€ and €œDuniya ne dil toda€, Tushar Jalota is a decent performer who needs better scripts, Mrinalini isn€™t as bad as she was in Awarapan and we have seasoned performers competently enacting the kind of roles they have long mastered, like Gulshan Grover as the sleazy media-baron, Sushant Singh as the grassroots goonda, Ehsaan Khan as the ruthless cop, apart from some good dialogues at long intervals (Mahesh Bhatt).
The trouble is that the fairly promising first half crashes with a car-crash sequence, and the script never recovers either calibre or freshness.
But let€™s go in order. Showbiz is about rising pop icon Rohan (Tushar Jalota) who is supposed to be such a TRP-driver (that€™s like believing that top singers can zoom TRPs sky-high, and we thought that only Salman Khan€™s presence causes music reality shows to break TRP records!) that some media-persons decide to target him.
Rohan loves his agent (Mrinalini) who gladly loses her virginity to him. But woe befalls her when thanks to the machinations of the sleaze-ball channel-wallahs, he is spotlighted in the media almost dead, but with a prostitute he is looking for, in a car crash unwittingly caused by the same people! The connection between Rohan and the prostitute of course remains a mystery.
The machinations of the media are based a lot on reality but presented in a grossly exaggerated way. The second half wherein Rohan decides to settle scores personally even if it means driving a persistent cop up the wall is completely illogical and senseless. In the end, we have the same old law-in-my-own-hands drama, where we have a strong feeling that the wrong kind of pressures were exerted on an (unimaginative) writer-director team to fabricate a climax that is the weakest part of a poorly-cooked recipe!
What a pity that a bumper year like 2007 has ended on a double-dud note with the two releases this week. Till last week, we were looking at a super-hit entertainer in Welcome and a celluloid masterpiece in Taare Zameen Par.