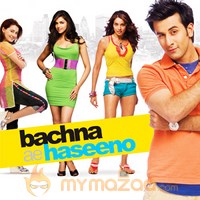 Related News
Movie Review
by

MyMazaa.com
Bachna Ae 'Audience'

Yet another Yash Raj film releases this week with Sidhart€™Tara Rum Pum €˜ Anand spearheading the bandwagon.
Ranbir Kapoor returns after the disastrous €˜Saawariya€™and what more with three beautiful women. Bipasha , Minisha Lamba and Depika Padukone are fused in to draw the masses either with their smile or sex appeal.
Synopsis€¦.
Why do girls always fall for the wrong guy? Their mothers warn them about him. Their friends shake their heads disapprovingly.
Their minds tell them to escape while…
Read full Movie Review