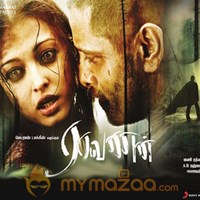 Related News
Movie Review
by

MyMazaa.com
Raavanan Compelling Tale Of Modern Day Sita's Plight

Film: "Raavanan"; Director: Mani Rathnam; Cast: Vikram, Aishwarya Rai Bachchan, Prithviraj, Prabhu, Karthick, Priyamani and others.
An innocent woman caught in a fierce clash between the system and the people — Mani Rathnam's 'Raavanan' is all about the plight of a modern-day Sita and more.
Veerayya alias Veera (Vikram) is the head of a tribal community inhabiting the forest areas. He is seen as the saviour by the people while the police force sees him as a criminal.
A special…
Read full Movie Review