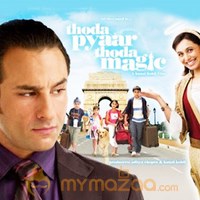 Related News
Movie Review
by

MyMazaa.com
Kunal Kohli Upholds The Yashraj Banner!

Despite Kunal Kohli€™s attempts to push the release of the other film ahead or request producer Sahil Chadha to change his film€™s title, Kunal faces the confusion battle of titles.
With the sinking of Tashan and Yash Chopra himself taking over the reins of the Yash Raj Films banner, immense pressure rides on Kunal and the entire force at YRF.
While glancing through the promos, you would expect this film to be a kiddie film or just yet another glamour…
Read full Movie Review