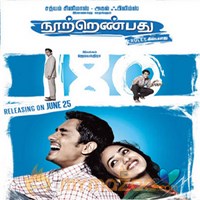 180 Review
by

MyMazaa.com
---
Story
It is a the story that is set around Ajay (Siddharth). He comes to Kasi where his outlook on world and fear of death changes after he meets a young boy. He comes to Chennai and stays in a house owned by a couple S V S Murthy (Mouli) and Jayam (Geetha). He gets close with them. They treat him as his sons. A do-gooder, Ajay lives life with a purpose. He gets along with everyone well and his cool acts wions the admiration of everyone. Vidhya (Nithya Menon), a photo journalist gets acquainted with him. Ajay with the help of Vidya gets street children gets sponsorship for their education. His good hearts attracts Vidhya. Things take a tirn when she opens her to heart to him,. Ajay without informing her decides to leave Chennai. But Vidhya meets with an accident. Onus is on Ajay to get her back to health. Meanwhile a flashback reveals that AJay was a doctor in USA and was attracted to a fun-loving girl Renu (Priya Anand). They get married after romance only to get a rude shock in their life. Ajay is diagnosed of cancer and that he would die in few months. Cut to present, Ajay takes Vidya to USA for tratment. Did Ajay meet his wife in US? Did he accept Vidhya in his life? All unfolds in the second half.
Performance
It's a superb show by Siddharth. The young actor has proved that he is versatile enough to handle tough roles and deliver it with aplomb. He is cool and casual in the first half. Bubbly and charming he is. His romantic escapades are interesting. Nithya Menon, with her girl next-door looks is perfect foil for the role. Prioya Anand plays her role with aplomb. Sri Charan as Siddharth's friend deserves a mention. Mouli walks away with aplause for his portrayal. The cast includes Geetha, Lakshmi Ramakrishnan, Thanikala Bharani and Janaki Sabesh.
Analysis
Jayendra starts to leave an impression with his visual in the first frame itself. The story or the narration may be very familiar, but the catchy dialogues and he sequence penned by Jayendra along with writers Subha is good. The nose for details and the execution of emotional scenes especially the thoughts of a youth all set to face his death are brought out well. The first half is racy and interesting while the latter part drags a bit.
Technicalities
Three cheers Jayendra for choosing an excellent crew behind the camera. Balasubramaniam's camera is the backbone. The visuals especially the manner in which he captured the song Rules Kidayathu is stunning. The landscapes of Kasi and then USA are captured well. Sharreth's music is another highlight. Sophisticated and mesmerising are the tunes. Jayendra and Subha have penned the story in such a way that there are no logical lapses.
Box Office Prediction
It is a movie that is rich, suave and stylish. There are enough emotional elements in it. But the fact is that it is too sophisticated for a common man to identify himself with the film.
Plus points
- Siddharth's performance
- Catchy visuals
- Good music by Sharreth
Minus points
-- Predictable story
- Slow second half