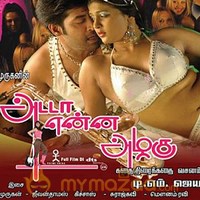 Adadaa Enna Azhagu Movie Reviews
Adadaa Enna Azhagu Review
by

MyMazaa.com
---
'Adada Enna Azhagu' is a simple tale of a youth falling in love with a young girl in his college. He incurs the wrath of girl's father, an influential Union Minister. They manage to elope from the house and the eventually faces trouble from the Minister There are gory stunts and bloodshed. Did they triumph and marry forms the climax...
A time –tested and oft repeated theme is the movie, directed by Jaya Murugan, Music by Jeevan Thomas. Right from the word go, the scenes are predictable and clichéd.
Akash Jai plays the hero who does his bit to make the movie engrossing. He romances, fights and even tries his hand at comedy. But all in vain. Newcomer Nicole plays the female lead who oozes glamour from the first scene. In skimpy costumes, she appears now and then.
There are a host of artistes in the movie including Ashish Vidyarthy, Sarath Babu, Aishwarya, Rekha and Karunaas. Sarath Babu plays a subtle role while Asish Vidyarthy is in his elements.
Vasan (Akash Jay) is a medical student in Ooty. He comes across Nisha (Nicole). Its love at first sight for them. Nicole's father is influential Union Defence Minister Alexander (Ashish Vidyarthy), while Vasan's dad is Dr Vaikom (Sarath Babu), who psychiatrist who serves the poor and the needy and a made a name for himself in the society. Nisha is kidnapped by a terrorist gang and she becomes schizophrenic, when rescued. She is nursed by Dr Vaikom.
But she regains her self after Vasan sings a song. Coming to know about their romance, Alexander ups his ante. He ensures that the couple doesn't meet again. However they manage to elope. Enter Minister's commandos and also terrorists. But the couple wins against all odds.
Kichaas' camera brings Ooty and Bangalore in its natural best. Songs by Jeevan Thomas are the major solace of the movie. At a time when film music is loud and jarring, 'Adada Enna Azhagu' has seven tracks which are soft and melodious.
Produced by Thiruppur N V Ramasamy, 'Adada Enna Azhagu' doesn't live up to its title.