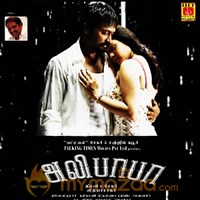 Alibaba Review
by

MyMazaa.com
---
A lot of hype surrounded 'Alibaba' since it is the maiden venture of Krishna, brother of director Vishnuvardhan, as hero. The young lad has lived up to all expectations coming up with a neat portrayal managing to leave a mark as an action hero.
Produced by Krishna's father 'Pattiyal' Sekhar and directed by Neelam G Sekar, 'Alibaba' has an interesting story with sudden twists and turns. However the director seems to have beaten around the bush especially towards the climax.
All credit to the director for choosing to do an action-film in Kollywood sans the regular commercial clichés. It is the story of a youth, who gets into tough situations for no fault of his. How he bails himself out of a crunch situation forms the climax.
Krishna, who resembles his brother, is cool and suave in the film. His body language and mannerisms suit the role well. He manages to fight well but needs to work out his portrayal in emotional sequences. Janani fails to pass the muster as she looks quite ordinary on screen. The on-screen chemistry between the lead pair is unfortunately missing.
The movie boasts of some big stars like Thilakan, Biju menon and director Azhagam Perumal. Prakashraj has performed in such a way that he hogs the limelight despite featuring only in a few scenes. The seasoned actor has taken away with him all the charm and grace in the film. As a loving father, he gives the movie the necessary pep.
Velu (Krishna) helps his father Subramaniam (Prakashraj) in stealing. Being seasoned thieves, they rob everything right from pins to cars. A spate of young women are murdered and these developments rock the city. A tough cop (Azhagarperumal) investigates the case. However differences of opinions crop between the Police Commissioner (Biju menon) and the policeman over the enquiry.
One day Velu saves the Commissioner from meeting his end and gets acquainted with him. Velu then begins to fall for a girl named Janani (Janani), who works in a bank. One day when Velu withdraws money he is shocked to find the balance amount to be Rs. Five Lakhs. It suddenly swells to Rs 30 lakh and reaches Rs 70 lakh.
Velu's father comes to his rescue and manages to find the reason behind it. When the family begins to find out the reason behind this act, it results in bloodshed and gore eventually ending up in Velu coming across the killers of young women in the city.
The narration is engrossing as the suspicion needle falls on everyone until the climax. The debutant director has weaved the screenplay intelligently, but seems to be in a hurry with its execution. Vidyasagar's tunes are pedestrian.
Had the second half been made in a more interesting fashion the director could have managed to sustain momentum until the end and ended up hitting the bull's eye.