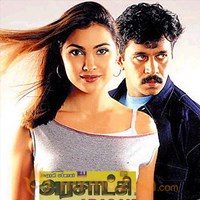 Arasatchi Review
by

MyMazaa.com
---
Arasaktchi is a routine story of a youth seeking vendetta against the corrupt lawyers . The storyline is interesting but the manner in which the vendetta takes place spoils the film. Inspired from an Hollywood film which focussed on the nexus between the judiciary- police in New York, director Maharasan spins off a tale to suit the local condition and in the process leaves behind lot of holes in the narration.
At the very outset the film gives you a taste of things to come. Anandraj a lawyer who argues for rapists and murderers is killed by a cricket ball hit by Arjun.
Arjun is a GM of a five star hotel owned by S V Shekar. Shekars daughter is Lara Dutta who is introduced with a sexy song. She comes from abroad to join her dads hotel but only as a traineee under the macho GM. Within no time Lara is in love with Arjun.
Its now time for duets . Laras friend Karan is a campaigner of public cause. His efforts lead to a brothel raid and a minister getting arrested. The ministers goons bump off Karan and Arjun is an eyewitness. Arjun refuses to testify and Lara walks out on him. Charanraj pleads for the killer and lets him off. Arjun bumps off Charanraj. Nazar a military officer is a witness to the murder. Nazar even postpones his heart operation till the killer is nabbed. Arjun now tells his story of why he is on a hunt of the lawyers who plead for the bad guys. Nazar gives up his mission.
Next Devan takes a brief for a rapist and he too is killed. Next is the turn of Raghuvaran who comes from Delhi. The surprise element is that Raghuvaran is the brother in law of Arjun. Raghuvarans wife is the long lost sister of Arjun. Now the brother- sister sentiment comes into play. Finally the story ends with Raghuvaran being shot dead by Arjun in the court premises. The police open fire and bystanders form a human wall and get shot at. Arjun tells TV crew about how his mission has spread to the masses.
Without doing any homework the director has woven a screenplay with full of gaping holes. Arjun looks jaded and the only consolation is Lara Dutta who sizzles in the song sequences. Haris Jayraj music and background score is good. Saravanans cinematography is above average.