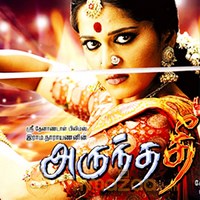 Arundhathi Review
by

MyMazaa.com
---
Kodi Ramakrishna mesmerized everyone with his Amman, a few years ago. The movie was about the war between the good and the evil loaded with computer graphics. Eventually Kodi Ramakrishna managed to get womenfolk inside theatres and Amman ended up a blockbuster. After almost a decade, he is back with 'Arundhathee'. It is again the story of the evil forces ready to take on good. All about rebirth and revenge, 'Arundhathee' is a movie that is sure to enthrall and engage audience for it has a gripping storyline combined with excellent performance and extra-ordinary visual effects.
Interestingly at a time when heroines are seen as mere glam-dolls, Anushka shoulders the responsibility of playing a dual role in the film and she comes out in flying colours. She is dynamic in the role of Jekkamma, who rules Kandarva Kottai. Known for her charming looks, Anushka, who hitherto ran around trees romancing proves her mettle.
Equally impressive is Sonu Sood. As a baddie, who bays for Jekkamma's blood, he is thoroughly convincing. Shayaji Shinde as a fakir, who helps out Arundhathee is apt for the role. Veterans Manorama and Sathyanarayana chip in with their best.
Arundhathee (Anushka) is the great grand daughter of the Kandarva Kottai Maharaja. The family arranges for her wedding with her lover (Deepak). One day, he urges her to come to the fort of Kandarva Kottai, where she faces a horrible experience. Learning the story from her servant (Manorama), Arundhathee comes to know that she is the rebirth of her great grandmother Jekkamma (Anushka).
Jekkamma was an expert in painting, dancing and fighting. She thrashes her sister's husband Pasupathi (Sonu Sood), who was a womanizer, and throws him out of the country. He had forced Jekkamma's sister to commit suicide. When everyone thought that Pasupathy was dead, he was actually saved by 'Aghoras', who served the devils. Pasupathi becomes one and comes to Kandarva Kottai to take revenge on Jekkamma.
After an intense battle, Jekkamma cuts off his tongue and buries him alive in a tomb. However, after three generations, Pasupathy come out of the tomb to take revenge on Arundhathee. Did he manage to do it forms the climax.
It is a movie that needs to be watched for its excellent graphic works (Rahul Nambiar) and crisp editing (Raja Marthand). Everything is grandeur about the film. The grand set replicating the palace, jewellery and costumes astounding.
Produced by Sri Thenandal Films and Mallemalla Entertainments, Arundhathee is a must watch movie for those who love thrills, suspense and super effects. A movie on reincarnation and re-birth, Arundhathee is here to entertain.