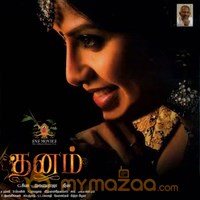 Dhanam Review
by

MyMazaa.com
---
Producer - director G Siva deserves a pat for touching on a bold theme in €˜Dhanam€™. The movie takes a close look at a woman indulging in the world's oldest profession, who gets married in a Brahmin Iyengar family. The travails that she undergoes in the family form the crux.
Siva seems to have taken cue from his mentor K Balachander, who had churned out movies on similar themes before.
Sangeetha deserve a pat for taking such a sensitive portrayal and playing it with aplomb. She seems to have done her homework exceedingly well.
Prem play her timid husband while Kota Sreenivasa Rao is cast a greedy womanizing astrologer. Girish Karnad plays an orthodox Brahmin, while the cast also includes Ashish Vidyarthy, Manobala, Ilavarasu, Rajalakshmi among others.
Dhanam (Sangeetha) is a call girl in Hyderabad. She does flesh trade only to help the poor people living in her colony. Anantharaman (Prem), a Brahmin youth is fascinated by her and decides to marry her. She reciprocates his love and agrees to marry him on the condition that his family should accept their marriage. As expected, the family opposes the marriage plans. However when an astrologer Vedagiri (Kotta Sreenivasa Rao) predicts that they would strike it rich, if Anantharaman marries Dhanam, they arrange for the wedding. Meanwhile Vedhagiri tries too woo Dhanam.
When Dhanam gives birth to a girl child, all hell breaks loose in the family. A series of events results in Dhanam avenging the whole family including the astrologer. Is she punished for her crime forms the climax.
His portrayal of a Brahmin family seems far removed from reality.
Ilayaraja has provided a couple of catchy melodies and with his brisk background score. Jeeva's cinematography deserves a special mention.
€˜Dhanam€™ is a bold venture by Siva. It is certainly a whiff of air from the rest of conventional commercial masala movies.