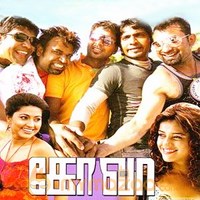 Goa Review
by

MyMazaa.com
---
Spell Goa, you are immediately reminded of fun, frolic, women and wine. Venkat Prabhu's 'Goa' is no different as the movie dwells on all these things. With more of a Bollywood feel, the movie is 'funathon', that is light and breezy all through without any seriousness involved in it.
Venkat Prabhu has managed to keep his reputation intact. Quite like 'Chennai 28' and 'Saroja', he doesn't take himself very serious in 'Goa' too. All is well but for few hiccups. The movie sets out to explore the changing relationships among the youths, especially the concept of homosexuals.
Though Bollywood has brought into light the issue in 'Dostana', this is for the first time in Tamil cinema to discuss about gay relationship. But Venkat Prabhu is not preachy and has not taken any sides or pass any judgmental comments.
The movie revolves around three youths who sets out on a trip to Goa only with a mission to fall in love with a white woman, get married and go abroad. The twists and turns they come across in their mission makes up the story.
A spoof of few popular Tamil films and songs does add to the merriment. With Premji, Jai and Vaibhav around, one is ensured of fun and frolic. There are some surprises in the form of Sampath Raj, Sneha, Silambarasan and Prasanna.
The movie begins in Pannapuram, a remote village near Madurai (the native place of Venkat Prabhu's family). Three youngsters Samikannu (Premji Amaran), Vinayakam (Jai) and Ramarajan (Vaibhav) are callous who spend all their time doing nothing. Their acts invite the wrath of the villagers and the village panchayat decides that the three should never meet again in future for the welfare and peace of the village.
The trio decides to elope from the place and spend few days peacefully in Madurai. When they reach their friend's place they come to know that he has married a foreign woman when he was in Goa and that he would be flying from the country soon. This results in them deciding to try their luck in Goa. They set off with a plan to lure a white woman and marry her.
They come across one Danny (Arvind Akash) who helps them with shelter in Goa and expose them to the party culture. Roshini (Piya) a singer in a hotel falls for Vinayakam, while Jesika (Melanie), a white lady follows Samikannu from Madurai attracted by his innocence. Enters Danny's friend Jack (Sampath) a gay. He has an affinity for Danny.
Soon Danny and Jack help the trio get an image makeover and start help them in their mission. Ramarajan's life takes a twist after he comes across Suhasini (Sneha), a rich ship owner in Goa. They get attracted towards each other and eventually gets married. But true colour of Suhasini is revealed and he manages to escape from trouble there with the help of his friends.
Vinayakam is finally convinced by Roshini's sincere love while Samikannu gets wedlocked with Jesika. After some twists and turns in the story, all ends well and the boys return to their village to start a new life. Vaibhav has a surprise when he lands in Pannapuram in the form of Nayantara.
Premji Amaran, Jai and Vaibhav have equal screen space and they bring the roof down with laughter. Premji is impressive with his 'familiar one-liners' while Jai speaking a chaste English and Vaibhav getting in trouble for his own acts are appreciable.
Piya and Aravind Akash have meaty roles to play while it is a surprise to see rough-and-tough Sampath playing a gay. Sneha though appears briefly seems to have shed her 'homely' image to do a dare bare role. She has done full justice to it. The rest of the cast includes Shanmuga Sundaram, Anandhraj, Sathyapriya among others.
Yuvan Shankar Raja is the real scene-stealer. A total of 9 songs including Goa theme are peppy and interesting to listen to. Sakthi Saravanan's camera is equally appealing capturing the sands and sea-shores with clarity.
Goa is Soundarya Rajinikanth's maiden production venture on behalf of Ocher Picture Productions. Once can applaud her commitment in taking the risk to deviate from the regular run-of-the-mill stuff and try something different.
However on the flip side, the movie might throw some shock to a section of conservative film audience. The bold theme tried by Venkat Prabhu may leave a bad taste in the mouths of some. Also the second half wanders aimlessly and needs an immediate trimming.
At the same time, one has to say that Venkat Prabhu was clear on what he wanted to do on screen and has rightly delivered the same. If you want to unwind yourself, forget all logics and enjoy, its destination 'Goa'