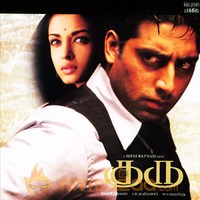 Guru (Tamil) Movie Reviews
Guru (Tamil) Review
by

MyMazaa.com
---
Guru - Jubilee of imagination and inspiration
??Daring to dream?? is probably the larger motif of the movie Guru. In a sense, that has also been the underlying impulse of Mani Rathnam himself as he has dreamed into reel about the life and times of a man who had an outrageous idea and even more outrageous desire to make them into reality, come hell or high water.
If Gurunath??s chase of fantasy (to make it as a businessman) puts him and those who reposed faith in him on the path of riches, then Mani??s own cinematic odyssey into the pioneering story of modern-Indian business world rewards us with an unforgettable experience of artistic entertainment.
A business missionary and a visionary, is what Gurunath is. For him, no rule or norm is an impediment to the path of progress that he has charted for him, his company, which for him is also the metaphor for the newly emergent India.
Mani??s genius lies in incorporating a cute and impish love into the broader ambit of an emotionless world of shares and supplies. Mani??s other great success is in getting the best out of his team. It is Abhishek Bachchan who leads the pack with a show that is surely the best of his career so far. In a de-glamourised ??bania?? look, Abhishek packs all the right punches in a character that is far more complex than the dandified exterior would otherwise lead us to believe. The Abhi-Aish chemistry is well known and needs no repetition here. But the sub-text of the duo??s romance to the larger theme of a man with a mission keeps the film from slipping into the slipshod stream of stereotyped consciousness. And then there is A R Rehman. In Mani??s company, Rehman becomes magical and his beautiful songs get an even more compelling contextual beauty. Rajeev Menon has the true ??eye?? of Mani, bringing into images the ideas in the director??s mind.
The story is obviously a takeoff from Dhirubhai Ambani??s life and times. But that is just a starting thread. Using that, Mani??s spins a yarn (just about the right term to describe about a story that is about success in spinning mills and polyester fibre) that gives a feeling of comfort and warmth.
??Guru?? begins with the young Gurunath (Abhishek) setting off to the arty and raucous Istanbul. In a sense, Istanbul proves to be what South Africa became eventually for the other great Indian dreamer ----Mahatma Gandhi ----- a seed of inspiration. Appropriately, Guru too invokes the ideas (though not the idealism) of ??Bapu?? when he is towards the end pinned down by Indian authorities for transgressions of laws that are in the book.
Guru, though appreciated for his work ethic, is consumed by the desire to make his work come good for himself rather than waste it for others (in this context, the whites). So he throws up his job in Istanbul and comes down to his dusty hamlet in Gujarat. But here again, the roadblocks before the takeoff are many (parental disapproval, monetary dryness and a general small-minded approach).
Guru, who sees Sujatha (Aishwarya) in quaint circumstances, falls in love with her and marries her. But the bigger love is for the money that she brings along as dowry (it is a truth that he will come to face at an unexpected crossroad). This would be his opening gambit on a complex, chequered board of a game in which every coin is deemed a pawn by vested interests. Guru of course wants to be the king. He understands the system. More importantly, he understands men and their minds. He strikes up friendship, by chance, with a maverick press baron Mangaldas (Mithun Chakraborthy). It is what launches him into a tumultuous world and it is what holds him back later. It is an enigmatic relationship that even amidst the no-holds-barred fight, Guru is able to strike a beautiful and bouncy relationship with the multiple-sclerosis ridden daughter of Mangaldas (Vidya Balan).
The initial days in the market are hard slog and slugfest. Guru manoeuvres them all with commonsense and conviction. But he has to subvert the system (mind you, those were the times of license raj and quota rules). This is what gets the goat of the Mangaldas, an old-world journo, who, despite his outward brusqueness, likes to play within the rules.
What ensues is a high-stakes cat and mouse game with Mangaldas using his hotshot scribe Shyam (Madhavan) to dredge up details of off-the-book dealings of Guru. It is a fight between two equal enemies. Guru, despite playing by his own rules, wins popular support. It is on these crutches that he eventually hobbles out.
The story??s strength is in the details that are too difficult to explore and experience in words and overzealous adjectives. But in Mani??s expert eyes, everything parade out in a panache-filled procession.
In the end, the film is indeed a biopic, without the attendant dreariness.
Like all truly great directors, Mani says a lot when he doesn??t say much. The story between the lines is what holds the attention as it is where the drama is?¦the action is.
For Abhishek, this is the performance of a lifetime. He lives the complex character of Guru with rare ease. Abhishek has managed to convey the underlying energy and enthusiasm of a businessman who romances the idea of being the best in the world.
The Abhi-Aish love story, cool and crisp at the start, grows up to be warm and wistful towards the end. It is a study in dignity and charm. Aishwarya, as ever, looks ravishing in song sequences.
Mithun brings to life a media baron who hides his essential simplicity and sweetness in practised roughness. Madhavan, as the howitzer journo of Mithun, flies into the target unerringly. His restraint, caught between the high-fire exchanges of two worthy rivals, is beautiful. Vidya Balan, in a weepy role, looks comfortable.
As ever, you have technical virtuosity all around in Mani??s movie. Rehman??s songs sound even better on screen and have been lovingly picturized by Mani and Menon. Be it Madurai, Istanbul or Karnataka, all places come out in alluring clarity.
The Hariharan ghazal just lifts you to heights that only monastery monks reach at their moments of high inspiration. Sreekar Prasad??s editing is crisp. The belly dance of Mallika (in Istanbul) is a treat to eyes craving for aesthetic satisfaction.
So, is there nothing wrong with Guru at all? Like the man Guru, the film too has warts and all. But that is the charm of it. It is what adds the agreeable spice.
The dubbing voices all fit just perfectly. Suriya??s full-throated backing to Abhishek is really splendid. The details of the story have not been lost in translation. For, what is narrated is a universal tale of human effort.
Mani has used all his sensibilities and sensitivities to unspool a tale whose drama lies in the men and not in their methods. Guru is unpretentious and doesn??t labour to make a point. Affected artifices are not for him.
Guru is a study of a man who is not afraid to chase the rainbow of imagination. Guru, the film too, is a jubilee of imagination and inspiration.