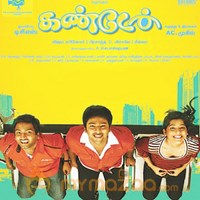 Kanden Review
by

MyMazaa.com
---
Kandaen Story:
Kandaen brings Vasanth (Shanthanoo) as a Software engineer, who works in an MNC software firm in Chennai. He always has a dream of marrying a girl of his style and choice. One day his grandfather (Vijayakumar) who is the village chief arranges his wedding with his friend's daughter. But Vasanth who is not interested with his decision plans to escape from the alliance by saying that he is in love with a girl in Chennai.
His surprised grandfather finally gives him one month's time in which Vasanth has to convince the girl's parents or he must accept his grandfather's decision. Vasanth comes back to Chennai and starts his journey to find his love. It's love at first sight when Vasanth meets Narmada (Rashmi Gautham) in a temple. She is the daughter of City Police Commissioner (Ashish Vidyarthi). Narmada is a social activist and has a soft corner for people who are blind. On knowing this, Vasanth acts as a blind man and wins over her sympathy which later blossoms into love.
Narmadha's father (Ashish Vidyarthi) is against the marriage. Vasanth and Narmada make a decision to elope and opts for a registered marriage with the help of their close friends. But just a moment before their wedding Narmada comes to know that Vasanth's is not blind and he has cheated her. Vasanth with the help of his friend Saami (Santhanam) tries to prove his love. Finally he wins Naramada's love and everything settles in peace. On a sudden incident he really loses his vision in a freak mishap.
How the couple is bailed out of the trouble is the climax. Will they get married? Watch out for Kandaen on big screens.
Performances:
This is the third outing of Shanthanoo and his performance has improved when compared to his earlier ventures (Sakkarakatti and Siddu plus Two). He looked bubbly and enthusiastic all through the film He improved in stunts and expressions too.
Rashmi Gautham is the latest add on to the list of heroines in Kollywood. Interestingly after a long gap we had a chance of seeing a major share shared by the heroine. Her performance is neat.
Vijayakumar and Ashish Vidyarthi have delivered what is expected out of them.
Santhanam gave a rib-tickling performance as usual. His one-liners, quick wits and sarcasm stand as the highlights of the movie. Though he appears during the second half it is quite enjoyable.
Director Mugil's simple narration and sensible comedy sequences are an added advantage for the film.
Music by Vijay Ebenezer is cool and breezy, reminds of Harris Jayaraj at many places.
Cinematographer Prashanth D' Misale's beautiful camera work needs a special mention as each and every frame looked with essential grace and charm.
Newcomer Antony Rooban's editing is glossy and crisp.
On a whole, Kandaen is more of Kushi mixed with Minnale. Director Mugil could have tried something logical as the story is predictable and the climax looks sloppy.
Quick Take: Kanden, Best summer destination for youth.