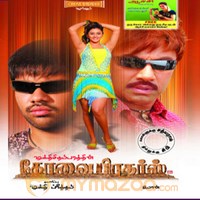 Kovai Brothers Movie Reviews
Kovai Brothers Review
by

MyMazaa.com
---
Somebody needs to stop this Sathyaraj. His spoofs and parodies wearing thin. He and his son Sibiraj are proving to be caricatures of themselves. And Sathyaraj's desperation in trying to prop his son's floundering career comes across in cruel and pathetic terms.
Kovai Brothers is a pale pastiche of all the tired jokes and puerile puns that we have seen before. Sathyaraj's take on films like Ghajini and New in fact come across as sick efforts of a man who has run out of ideas.
Director Sakthi Chidambaram, who had won his spurs churning similar ventures with Sathyaraj before, just doesn't know what to do. The jokes and spooks just fall flat and seem tasteless like yesterday's soda water.
If you can call this story, this is it: Sathyaraj and Sibi, come from Kovai on a mission. Their ire is on the system that they feel took the life of Uma ---Sathyaraj's sister and Sibi's girlfriend. The duo works in a TV and specializes in exposes. Then there is Namitha, a compere in the same channel. apart from taking on the baddies and the corrupt system, Sathyaraj and Sibi angle for the same girl. Who wins her and how they go about killing the biggies in the society is the rest.
By the time the film veers towards the end, you almost feel like calling out for the ambulance. Sathyaraj and Sibiraj try to be smart and casual. But their attempt to bring humor fails simply because the joke is on them. Namitha is voluptuous. Period. Vadivelu's jokes are also not edifying. Kovai Sarala does her bit.
Imman's music is grating.
Sakthi Chidambaram's direction is only on paper. Kovai Brothers, all told, is tiring and trite.