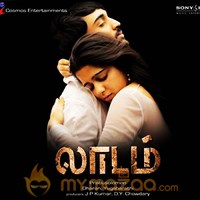 Laadam Review
by

MyMazaa.com
---
Director Prabhu Solomon has made a name for rendering entertainers. His earlier films 'Kokki' and 'Lee', both had surprising twist and turns which made an impact with the masses. Solomon seems to have scalped a hat-trick with 'Laadam', which lives up to all the pre-release hype and expectations.
Solomon has opted to narrate the rivalry between two underworld gangs and the way and means they adopt to bump off each other. At many places, the movie reminds one of his earlier film 'Kokki'. Influenced by Ramgopal Verma's style of film-making, the director has loaded the movie with bullets firing non-stop. He deserves praise for not opting for needless stunt sequences. Rather they are shot in a realistic manner thanks to cinematographer Sukumaran.
In a nutshell, 'Laadam' revolves an innocent educated youth, who comes to Chennai in search of a techie's job to settle down in his life. Unfortunately, he becomes bait between two warring factions. He is ordered to accomplish a mission within 16 days. Did he or not form the climax. Kunjidhapadam (Aravindhan), a MCA graduate comes to Chennai from a remote village in search of a job. He comes across a gangster Pavadai (Kotta Srinivasa Rao), who son is bumped off by his rival gang led by Vembuli (Jayaprakash).
Seeking revenge on Vembuli, Pavadai decides to use Kunjidhapadam as his weapon to kill Vembuli's son. He orders him to finish him within 16 days or else he would meet with his fate. A shocked Kunjidhapadam runs from pillar to post to save himself from the two gangs. He meets Angel (Charmi), a happy-go-lucky girl. She comes to know of Kujnidhapadam's troubles and volunteers to help him. They eventually get attracted to each other and get married. Turn of events results in Kunjidhapadam zeroing in on Vembuli's son on the 16th day. What happens then forms the climax.
Newcomer Aravindhan plays the male protagonist who runs for cover from the mafia gangs. He is impressive in his first outing coming out with the right emotions. With his boy next-door looks, he evokes sympathy from the audience, when bashed by the goons. He promises a lot and is sure to go places. Charmi makes a comeback in Tamil after a long gap. As a callous young girl, she oozes with confidence on screen. With her charming looks, she fits the role well. Unlike contemporary heroines, she has enough scope to perform in the movie and does come out well in the end.
Kotta Srinivasa Rao is as usual loud and speaks from his belly. V Jayaprakash as an underworld don is impressive.
Dharan's music is a major let down. It's loud and the music dominates the lyrics at many places. Stunts by Anal Arasu are the major highlight for the movie. Produced by J P Kumar and T Y Choudhary, 'Laadam' is riveting but for an overdose of violence and bloodshed.