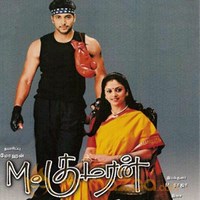 M.Kumaran S.of Mahalakshmi Movie Reviews
M.Kumaran S.of Mahalakshmi Review
by

MyMazaa.com
---
When a film is produced by father, directed by one son and acted by another, it is bound to be full of family sentiments. And M Kumaran s/o Mahalakshmi is.
Editor Mohan, who with his son Raja (Director) and Ravi (hero) gave the hit Jeyam, is certainly sentimental in other ways too. For, Jeyam was an unabashed remake and it proved successful. And this time too, when the same team returns, he has stuck to the same formula of a hit remake --- Amma Nanna O Tamil Ammayi is the original here.
But will the trio succeed like Jeyam did? Difficult to say for M Kumaran...is like a curate's egg --- good in parts. It has its moments. But is excessively suffused with treacle to get any meaningful tempo in its narration.
The film, at core, is about the mother of all sentiments --- the mother sentiment. For Kumaran (Ravi) life is all about his mother Mahalakshmi (Nadhiya) who is separated from her husband Eshwar (Prakash Raj).
Kumaran is passionate about kickboxing while his mother, a professor, is almost his friend as they share a special relationship. In between, Kumaran falls in love with a Mallu girl Asin (he calls her Malabar).
But life cannot be always happy, and the mother dies. But on the deathbed she tells her son to meet his father who lives in Malaysia. He too was a kickboxing champion, we are told.
Kumaran goes to Malaysia to teach his father a lesson. But he comes across his father as happily settled with a new family. So not wanting to rock the boat anymore, Kumaran takes up a job at his father's kickboxing coaching academy. But by this time, Eshwar runs foul of one of his students. The rest of the movie is about how Eshwar trains Kumaran (by this time he comes to know he is his son) against his malcontent student and wins.
It is a story of sentiments, sentiments and more sentiments. Strangely it works in many parts. But the moment Nadhiya dies, the film loses tempo and the portions in Malaysia fail to whip your appetite.
Raja, in his second film, is first rate. As a son, for whom his mother is his life, he brings to fore all the emotions just right. And in action sequences, he is full of robust energy. His eyes radiate a rare mix of innocence and rage. Nadhiya, in her second coming, has a author-backed role. She shows what we have missed in her years of absence. Prakash Raj has a typical role and Asin has nothing much to do.
The comedy of Vivek and Venniradai Moorthy is risqu and a surprise how it escaped the Censors' scissors.
The music of Srikanth Deva is a major disappointment.
The cast also includes Vaiyapuri, Ishwarya, OAK Sundar, Manobala and Janakaraj.
If you like films with sentiments, M Kumaran...is for you.