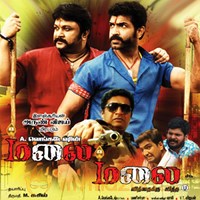 Malai Malai Movie Reviews
Malai Malai Review
by

MyMazaa.com
---
Actor Arun Vijay's long-pending search for a success formula seems to have ended finally with Malai Malai. A commercial entertainer from start to end, the movie directed by A Venkatesh is a commercial pot-boiler which is entertaining all the way.
In the company of a huge star cast which includes Prabhu, Prakash Raj, Kasthoori, Santhanam and Ganja Karuppu, Arun Vijay delivers his best ever performance so far. If you don't look for any logic and go watch Malai Malai, it's obvious that you would be swayed by its magic.
Vetrivel (Arun Vijay) and Pazhanivel (Prabhu) are brothers, who live a happy life in a village near Pazhani. Enters Anjali (Vedhika) to her relative's house in the village. It's love at first sight for Vetrivel as he encounters Anjali.
Vetrivel decides to come to Chennai in search of Anjali after she leaves the village. His life takes a turn after he reaches the metro. For, he meets Esakki (Prakash Raj), a granite businessman, who is known for his evil deeds.
A tensed Vetri initially stays away from all controversies. But he is constantly chased by Esakki's men. Meanwhile, he manages to find Anjali and decides to marry her. But enters Essaki with other plans. What happens next forms the climax.
Arun Vijay lives up to his role. Oozing with confidence and a toned down physique, he plays the role with grit and determination. Prabhu, Prakash Raj and Santhanam walk away with honours doing justice to their roles. Vedhika as heroine and Kasthoori in a cameo excel. Venkatesh has given equal opportunity for all in the movie.
Produced by Feather Touch Entertainers, Malai Malai has catchy music by Mani Sharma, which at times is loud. All said, Malai Malai is a movie that is worth a watch for it is more of fun and action.