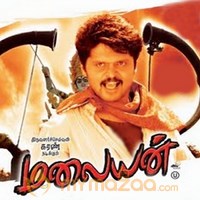 Malayan Review
by

MyMazaa.com
---
'Malayan' is another wholly Karan's film, much many of his previous films, in which he is the sole remedy for everything bad and the sole cause for everything good. Given the natural actor that Karan is, it does seem like a noble idea to give him a film that amply boosts his image and brings out a seasoned performance from him.
But why is it that you think everybody but him in the film compensate for his good acting, with their respective poor performances? Name the actors, from debutant Shammu to Sarath Babu, and acting is clearly found wanting in every scene in the film!
The tale of betrayal, that too, from the one we trust most isn't new to Tamil cinema. And Malayan too, is one such tale of unbelievable devotion to the boss, played by Sarath Babu, by his employee in a fireworks factory, 'Malayan', played by Karan.
Shammu plays the daredevil heroine, who falls for Malayan, and the love is reciprocal. But what seems like candy floss romance soon turns to a tragedy. And then, how Malayan seeks revenge for what happens is the action-packed second half.
The second heroine, Udhayathara then enters, and you think the director introduces the character for another abrupt romance between Karan and her. Udhayathara's logic to get married to Karan is as shallow as can be; but thankfully, the director has handled the issue deftly. In those scenes in which Karan cries over his love's grave, there's a lot of maturity in both his role and performance.
Dheena's music is impressive, especially "Ayo En Avale Parthen". And director Gopi, for a debutant, has handled the first half fairly well. It is only later, with the introduction of more villains, that you cringe about the done-to-death clichés.
Bottomline: Malayan is your average commercial flick for most part, with Karan given the Himalayan responsibility of making it worth a watch. And he fairly succeeds.