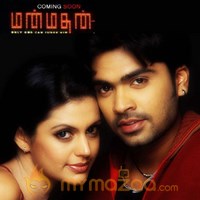 Manmadhan Review
by

MyMazaa.com
---
he biggest advantage that Manmathan has is that has hit the theatres without any great expectation. The biggest advantage for Silambarasan, the hero and the de facto director of the movie, is that it works.
Since people are coming to the cinema halls without any preconceived notions they are able to accept Simbu in a villainous role. But more than anything else, the main success of Manmathan is due to the fact that it tells a gritty and thrilling tale in an attractive and modern sort of way.
Told on the shades of Kamal-Bharathi Raja classic Sigappu Rojakkal, Manmathan is Simbu all through (he is also in charge of story and screenplay). Cast in a double role, Simbu eschews all his usual showboat histrionics and to-the-gallery mannerisms.
Simbu, an accountant by profession, gets to work in a music college. He meets Jyothika here. The latter however runs away from him as he is the one who rapes her in a dream (nightmare?).
Now, we are shown a Simbu who chases girls with the intensity and interest of a Lothario. He seduces girls and finally burns them. Thus several nubile young girls vanish from the city.
Policeman Atul Kulkarni, who is in charge of the investigation, manages to nail Simbu.
It is when the truth comes tumbling out: Actually, there are two Simbus out there. One is soft and honest, working in music college. The other is the Don Juan, killing women like a Jack the Ripper. But Jyothika who mistakes the first for the second hands the former to the police.
In the flashback, we are told that the two Simbus are twins and the killer is taking it out on young girls because he himself is a victim of young girl's (Sindhu Tolani) duplicity. After being loved and thrown away by Sindhu, the other Simbu develops a hatred for women. So he goes on a seduction and killing spree.
The rest of the story is about how law catches up with him. But there is also some unexpected twist in the tale and that adds to the story value.
Simbu is decidedly first rate as the suave serial killer and the innocent lover. He comes across as vulnerable and virtuous. His acting skills get a good exposure in this author-backed role. Jyothika as the heroine is okay. Though her scenes seem to have got the chop. There is also the buxom Mandira Bedi and Yana Gupta in the cast.
Music by Yuvan Shankar Raja is a definite plus point to the film. So is Rajasekhar's photography. Rajeev's set (very modern and pared-down chic) suit the mood of the film.
The direction is a revelation. But like the film itself, the question is who is the real director of the film, is a good thriller.
The film works because it is a gripper. The fear element is maintained and the twists and surprises are really so and not contrived.