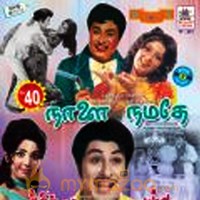 Naalai Namathe Movie Reviews
Naalai Namathe Review
by

MyMazaa.com
---
Vinayan is known for chronicling the emotions of human beings. Be it his Malayalam movies or Tamil flicks, they had an emotional touch and never failed to touch the hearts of the audience. His popular films like 'Kasi' and 'En Mana Vanil' dealt on the dark Hades of the human lives.
In 'Naalai Namadhae', a title inspired by yesteryear MGR film, Vinayan has gone on to probe why the rich always get richer, while the poor always remain poorer. He has woven the screenplay around the lives of the poor especially those living in slums in particular. The movie boasts of popular star cast which includes Ashish Vidyarthy, Thanikala Bharani, Kiran, Rajan P Dev and Karthika.
Vinayan begins the movie on expected lines coming out with scenes that instantly evoke sympathy pon the men reeling under poverty. However as it progresses, he seems to deviate from the plot, making it a Robin Hood kind of a story. As it progresses, it becomes a more mass commercial and deviates from its central theme. Udayappa (Ashish Vidyarthy) is a businessman who gives a major part of his wealth for charity purpose in his district. He urges District Collector Priya Alexander (Karthika) to entrust the job of spending the money to two slum-dwellers Mani (Manivannan) and his son Ramu (Pradeep). He instructs to use the money to provide houses for slum-dwellers. Maha Ganapathy (Rajan P Dev), a greedy politician and Ramasamy (Thanikala Bharani) are keen to play spoilsport. They threaten Mani and Ramu with dire consequences and ask them to part with the money. Ramu has to resort to such things as kidnapping Maha Ganapathy to avert the threat.
A flashback reveals that Udayappa had become rich by wrong means. It was Ramu who made him donate his wealth for welfare measures. Eventually it is up to Ramu to fight the corrupt politicians and eventually end up becoming the Home Minister.
Pradeep as Ramu impresses in his maiden venture. Sharvanand plays a happy-go-lucky son of a Minister, who loves a slum girl. M S Baskar and Vaiyapuri provide comic relief. Kiran plays a commercial sex worker and appears very briefly in the film. Karthika does well as Collector while Manivannan hogs limelight doing a complex character with such ease. As usual Ashish Vidyarthy speaks from his belly.
Music by Bharadwaj is average. Produced by Jana Seva Films, 'Naalai Namadhe' is a movie that begins with a purpose but eventually ends nowhere.